London-based lifestyle brand Zaggora was founded by husband and wife team, Malcolm and Dessi Bell. In a year, the pair have sold more than 500,000 products worldwide, creating 90 jobs globally, all inspired by Dessi preparing for her wedding.
The Huffington Post UK talks to husband and co-founder Malcolm, who's been nominated for the Orange National Business Awards, about quitting his job, battling with prototypes and fighting with HSBC.
What were you doing before launching Zaggora?
I spent 10 year working in a family office on wealth management - I just sort of fell into it at 17 and learned how to buy buildings and how to leverage – and then I went to university at LSE where I met my future wife Dessi.
After university, I spent a few more years in family wealth offices, but by 2008 I was restructuring products – and dying of boredom.
I was about to turn 30 and thought: 'This can't be the rest of my life'. I had no kids, no ties and was looking for a new idea.
What happened next?
Dessi discovered the idea when she was preparing for our wedding – she wanted to find a product that would help to shift a few stubborn pounds around her stomach and hips and the only thing that worked was wrapping cling film around herself.
She came up with some prototypes and eventually found a material that worked – she produced 20 of these hot pants and handed them out to friends and family, and 19 of them reported they'd lost weight.
You could say it became her new obsession after the wedding was over...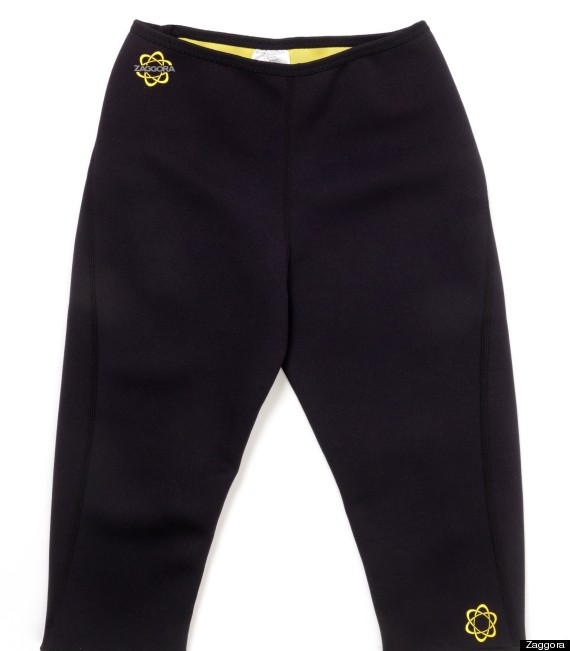 The famous pants
How did you fund your first hotpants?
We got £25,000 together from Dessi and my bonuses and savings. Most of that was taken up with production costs, so we were forced into free marketing – we contacted bloggers, found users on facebook, twitter and asked them to tell us (and the world) what they thought.
Also, we knew we needed more funding and we couldn't go to a bank without customers, as we didn't have five years' worth of accounts for them to see we were onto something.
Doing the marketing through social networks certainly didn't hamper our growth though, if anything, it was a catalyst.
We had a really strong word-of-mouth campaign which targeted cynical bloggers to get them on as early adopters – after a few weeks we had thousands of reviews on our Facebook page.
What hurdles did you face?
Cashflow was our biggest problem – the business grew too quickly and made a year's worth of target revenue in the first month.
It caused us a real problem actually – all banks have a reserve amount and limits as security measures and when we went to see HSBC, our bank, we weren't sure how much money we were going to make. So we guessed at around £100,000 for the first year – but we made that in the first month.
HSBC stopped allowing us to take money out of the account while they investigated why there was so much money coming in – but while they were doing that we were starved of money. We were taking in orders but couldn't use the cash to generate the product. We had to start turning away business.
In the end I phoned the chief executive of HSBC, Stuart Gulliver, and told him "look, your bank is killing my business". The next day, all the restraints were lifted.
It was a terrifying time – we had 200,000 orders but only 50,000 units – how do you keep 45,000 women happy?
We used personal communication with each of them and explained that they'd have to wait for four to five weeks and offered a refund. Thankfully, 90% of them said they were happy to wait.
Any other problems?
We had a few problems with Royal Mail for a while – our products kept going missing in the post – we just had to take the expense and send out another pair.
Everyone goes through growing pains – we knew we'd have challenges but you have to be prepared to go to the extreme. We've grown in 12 months like most people do in three years.
It's also all about preparation, making sure you've got the right people, infrastructure and office systems in place. The only thing I'd have done differently is to introduce new products quicker than we did.
How did you diversify?
By listening to our customers – women on the Facebook page were telling us they wanted hotpants that fitted their arms and tummy – there was a really strong demand for Zaggoras that worked on the upper body.
In fact, a customer survey showed 70% of women thought toning their upper body was more important than their lower body.
We also launched some body care creams, oils and gels – the hotpants effect in a bottle.
We're also ramping up our distribution – we're in national stores and from November 2012 we're in Bluewater in Kent with our own store.
What advice would you give to wannabe entrepreneurs?
Don't be afraid to try something new and make sure your product's got a strong differentiation and good unique selling points.
In a difficult economic climate it can be easier to excite customers, so listening to them and developing that feedback loop is really important – people don't really look at adverts any more but 70% of people will trust a personal recommendation.
My final piece of advice would be do actually go out and do it – I meet so many people who have a great idea but aren't brave enough to take that leap of faith.