'Homeland's episode last week was the stuff of which, for any other television series in the land, season finales are made.
But this is 'Homeland', where cliffhangers are brought only to be waved away with a dismissive hand. Unlike just about every other TV series, the writers serve up denouements like Brody's suicide tape, Carrie's vindication, with almost casual disdain. As for Brody's whole charade... that's so last series.
Instead, the writers ploughed ever onwards, which meant time for Brody in captivity and under the interrogation light bulb - again - but this time on US soil.
Damian Lewis as Brody, back in captivity and very, very stressed
And in a mirroring counterpoint to his Afghan ordeal, there was a very bad cop to kick off proceedings - a menacing Peter Quinn (Rupert Friend), culminating in an uncontrolled stabbing - completely unbelievable, particularly when Quinn appeared minutes later, calm as a cucumber, and allowed to carry on viewing proceedings, no sniff of a court martial in sight.
But his rage left the door open for good, understanding, soft-eyed, seductive cop Carrie - who knew every Brody button to press. This set piece brought the best out in both Claire Danes and Damian Lewis - already Emmy winners both, but proving to any doubters just why they got them. Lewis, in particular, with very few words - and many of them lies - dug to the essence of the broken man, whose strings Carrie willingly pulled, even while she gave her heart to him again, just in case anyone was in any doubt.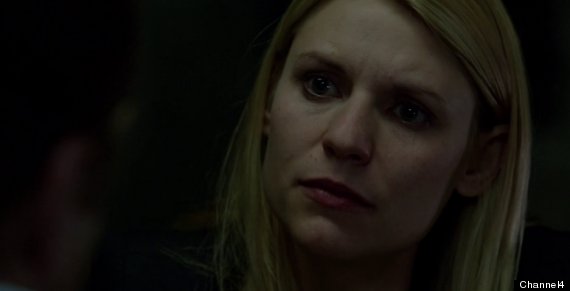 Carrie admitted her feelings to Brody - but was it all a ruse, or honest, or both?
By the end, all had been confessed, much seemed forgiven, and the battle lines had been redrawn, with Brody answering to someone who, just like Azir, had succeeded in rescuing him and rebuilding him from the ashes of his tortured psyche - sound familiar?
But this one has got a whole catalogue of vulnerabilities, of whom Brody is all too aware, so just who is playing whom remains to be seen.