Prince Charles had a blast from the past after being reunited with an old Papua New Guinea schoolmate he shared student digs with almost half a century ago.
The Prince of Wales last saw Father Lucas Bejigi, an Anglican priest, in 1966 while the heir to the throne was studying in neighbouring Australia.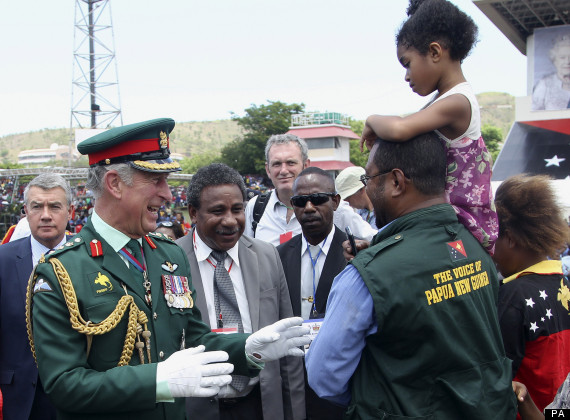 Prince Charles laughs with locals during a cultural display at the Sir John Guise stadium in Port Moresby, Papua New Guinea during his Southern Hemisphere tour
Father Lucas made the heir to the throne welcome during his stay at a remote school in Papua New Guinea.
Aged just 17 the Prince travelled to the Pacific country in 1966 for a few days and met the priest after the latter won a school competition to create a hut for the royal, even making him a bed.
At first Charles, 63, did not recognise his old classmate when they met last night at the royal's hotel in Port Moresby, the capital of Papua New Guinea, but when the Prince realised who the 64-year-old priest was, the two men hugged.
The old schoolboys had grey hair and wrinkles while the priest had a noticeable wider waistband since their days together but they were still recognisable to each other.
Father Lucas shared a garden hut with the heir to the throne during his two-day visit to Martyrs' Memorial School in a coastal village in the south-east of the country.
They first met after the priest won a school competition to create a hut for the royal and even made him a bed.
The day after the reunion he said: "I was very surprised, when I met him I said 'we are old men with grey hair'.
"He stayed for two days and I slept in the garden house with him. I made a bed out of cane and the school provided a mattress.
"He was very friendly to me at that time, we slept in the hut and told each other stories. He gave me a small comb and I gave him a wooden comb in return.
"The Prince told me the story about how he lived in Buckingham Palace."
Charles travelled to Papua New Guinea as part of a school trip during his time at Timbertop, a remote annexe of Geelong Church of England Grammar School in Melbourne.
In tribute to his royal friend Father Lucas, whose parish church is in Sefoa in the south-east of the country, named his son after Charles and when he and wife Jean adopted two boys they named them Andrew and Edward after the Queen's other two sons.
Father Lucas joked: "I've got a small group of royals living in my home."
LIKE HUFFPOST UK STUDENTS ON FACEBOOK | FOLLOW US ON TWITTER