Manchester City manager Roberto Mancini has cast further doubt on the club's Champions League credentials, claiming the Premier League champions are "not ready" in the competition.
City face elimination at the group stage for a second successive year having taken just one point from their opening three games against Real Madrid, Borussia Dortmund and Ajax.
The Citizens can tally just a maximum of 10 points - the same amount they earned last year when they faced Bayern Munich, Napoli and Villarreal.
Despite spending £291.75m to strengthen his squad, the team's porous defending has been exposed in Europe and Mancini alluded to the quality of opposition when expressing his uncertainty over the club's strength on the continent.
"I don't think we're ready to win the Champions League," Mancini admitted. "If we say we're ready to win it, we're not honest. In the Champions League it's clear that incredible situations can happen in February and March but we've been drawn in a tough group this year, like last year.
"We're a good team but we're not ready in the Champions League, like the other teams. Chelsea tried for 10 years to win the Champions League. They were probably the best team in Europe for 10 years and they won it after 10 years, probably when they didn't deserve to. They deserved to win it three or four years before. The Champions League is like this. If we win our next three games, then fantastic, anything can happen. But the road is very long."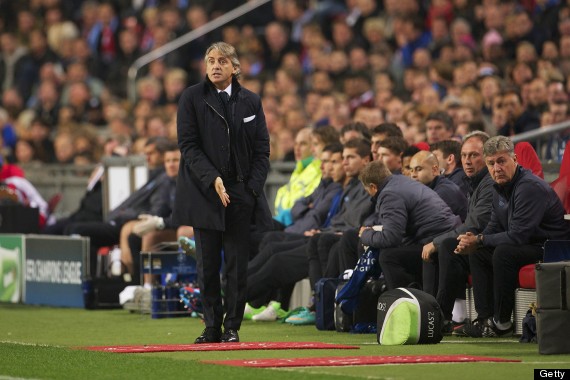 Mancini's City lost 3-1 to Ajax a fortnight ago
Mancini's admission he spoke to "seven or eight clubs" earlier this year, including Ligue 2 side AS Monaco, as he considered leaving City has also intensified the scrutiny around him thanks to City's Champions League form.
City's 3-2 and 3-1 defeats to Madrid and Ajax bookended a fortuitous 1-1 draw at home to the superior Borussia Dortmund. Although unfortunate in the manner of their defeat at the Bernabéu, Mancini stressed his squad owed him "three big performances".
"We have less chance of qualifying for the next round but, when you're a top team, even when you're out, you should play 100% in every game," the 47-year-old said.
"The players are the same and the referees are the same. We just need to improve. I will change nothing."
City played out a 0-0 scoreline at West Ham United on Saturday - their fourth draw of the season - as they remain unbeaten in the Premier League, just two points off the summit.