The Premier League was bereft of anything distasteful on a weekend in which Manchester United ascended to the top for the first time, André Villas-Boas received his annual bout of winter boos and Luis Suárez's boundless brilliance wasn't tainted by any play-acting.
Here are seven talking points from the weekend's football...
No Controversies
There were no reports of racism, no refereeing disputes (even Neil Warnock displayed some restraint), no conspiracies and no diving. Ironic then that the football should underwhelm in the Premier League. Just 16 goals were scored from nine matches at the weekend and only one of the top eight emerged victorious. It made for a blasé Match of the Day, but at least despair was reserved for something less sinister.
Sky Culpable For United-Arsenal Lifelessness
Sky did their best in the pre-match plug all week ahead of Manchester United hosting Arsenal. A preview featuring Arsenal Leather Jacket Man, Dwight Yorke's hat-trick, Sylvain Wiltord's 2002 winner and Roy Keane and Patrick Vieira going mono a mono was a bid to resuscitate the teams' rivalry. Only it flatlined. Vermaelen wasn't the only one napping
The pair haven't been rivals in over seven years and Saturday's fixture was as flat as the Old Trafford atmosphere. Gary Neville erroneously said it was United's best home performance of the season, that their man of the match was Patrice Evra illustrated it wasn't. Arsenal were much worse, and it made for such a dull spectacle one found themselves in the surreal position of appreciating the Gunners' support (if not their songbook). Maybe the $kyjacking of the game and its 12.45pm kick-off time didn't help.
Di Matteo Only Has Himself To Blame
"It's a bit of a concern that some are tired," Roberto di Matteo opined after Chelsea drew 1-1 at Swansea City. Sir Alex Ferguson could be forgiven for another chuckle at Chelsea's expense. Without a referee to blame (the same referee who, incidentally, should have shown Fernando Torres a straight red against United in the first half), Di Matteo's decision to bemoan the Blues' fatigue was inevitable. Given he started nine players who featured in a midweek Capital One Cup match at Swansea, the only man he should blame for their failure to win at the Liberty Stadium is himself.
Spurs' Support The Most Fickle
Tottenham are fifth in the league and above Arsenal. They have beaten Manchester United at Old Trafford for the first time since 1989 and, despite losing Luka Modrić, appear to boast a superior squad than they ever did under Harry Redknapp. The booing which reverberated around White Hart Lane after their 1-0 loss to Wigan Athletic was a pathetic response from a set of fans who lay a serious claim to being the ficklest set in the Premier League.
André Villas-Boas is but a few months into the White Hart Lane post and already there is an agenda with him in some quarters. Hauling off Jermain Defoe was unpopular, but Defoe didn't have a shot on or off target and it was imperative to retain the team's shape against a side renowned for their savvy on the counter-attack.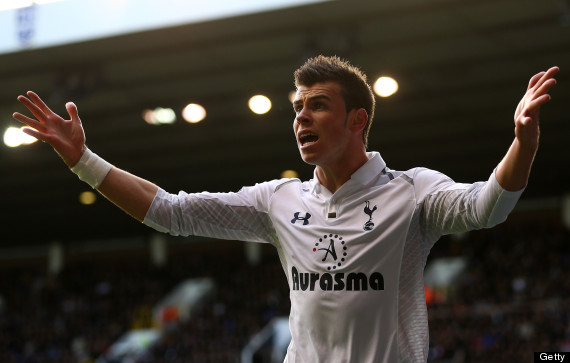 Gareth Bale can't believe it either
Spurs fans' reaction evoked memories of, coincidentally, the team's 1-0 loss at home to Wigan in 2010, which came days after the club had qualified for the Champions League for the first time. They booed then, as well.
"They have to accept a bad day, occasionally," Harry Redknapp warned them at the time. They still haven't.
Tony's Tony Award For The Tedious
When will Tony Pulis go a week without "banging on about diving"? Some of Andre Marriner's decisions in Stoke City's loss at Norwich City were questionable, with Charlie Adam this week's Fernando Torres (although the contact was more minimal) and the free-kick from which Norwich scored came via an unprovoked tumble from Robert Snodgrass. But it is hypocritical of Pulis to berate the swan-divers when he manages some players who have deliberately hurt fellow professionals. Andy Wilkinson's elbow on Mario Balotelli is proof of that this season alone while Ryan Shawcross (accidentally) broke Aaron Ramsey's leg. Stoke thrive on bending the rules, so if Pulis wants to clean up one act he needs to clean up his own as well.
Gerrard For The Drop?
Steven Gerrard made his 600th Liverpool appearance at Anfield on Sunday, but unlike Ryan Giggs he didn't commemorate the occasion with a goal or an assist to mask his own shortcomings this season. Gerrard displayed the blood-and-thunder gusto a relic like Roy Hodgson would swoon over, but it isn't the perfect matrimony for Brendan Rodgers' footballing philosophy at Liverpool. His teams thrive on retaining the ball and winning it back and while Gerrard did his best at harrying Newcastle's artisans the headless chicken approach is, despite the positivity it generates on the terraces, a defence mechanism for ineffectiveness. 600 not out
The Liverpool skipper has started the campaign poorly and whenever Lucas Leiva, recognised as a vital cog in the team's machine by Rodgers in Being: Liverpool, returns to fitness it is Gerrard – not Nuri Shain or Joe Allen – who should be in danger of being demoted.
Lucas should be back at the beginning of next month so Gerrard has time to produce more performances like the one he displayed at home to Manchester United in September. But like Giggs, he may have to adapt not just for his manager but for his career.