Arsenal defender Andre Santos has apologised for swapping shirts with Manchester United striker Robin van Persie at half-time of the teams' Premier League match at the weekend.
The Brazilian left-back produced a woeful performance against Antonio Valencia in the Gunners' 2-1 defeat at Old Trafford on Saturday and earned more criticism for collecting his former team-mate's shirt.
He told The Sun: "I'd like to apologise to supporters who felt aggrieved by it.
"We remain friends and he [Van Persie] talked about exchanging shirts, which is something players do all the time.
"Did I think it would cause such a commotion? Of course I didn't, otherwise I would have told Robin to exchange the shirts away from public view."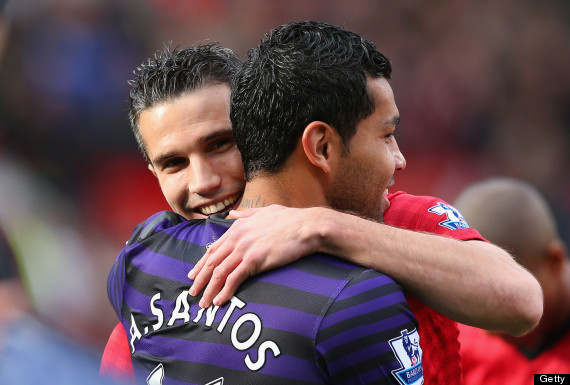 Santos is warmly embraced by Van Persie prior to the game
Santos was chastised by Arsène Wenger but the Arsenal manager was keen to downplay the incident.
"I spoke about that but I don't want to make too much of a big story of that," the Frenchman said ahead of Tuesday night's Champions League match at Schalke.
"I believe that was not the right thing to do at all, but that is not an explanation for our bad performance on Saturday."