Robert Pattinson, as we all know, does 'moody' and 'brooding' like no one else (well, except for maybe his girlfriend Kristen Stewart) but we saw a whole different side to him during an appearance on Jimmy Kimmel's US chat show.
The 'Twilight' star went from sullen to smiley, jumping around in his chair, sitting on his feet and generally appearing rather pleased to be there before admitting he'd had 'a little bit of vodka backstage'.
And we're guessing it was more than just the one glass judging by R-Patz's performance and if it wasn't then we can confirm he's a VERY cheap date.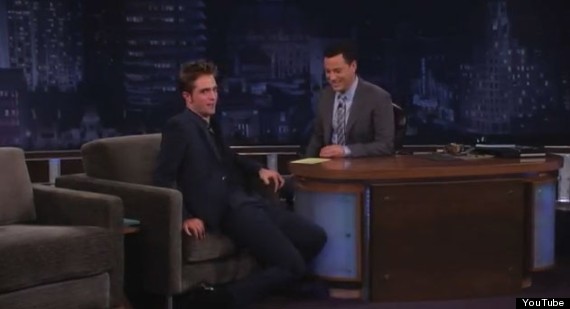 Robert slips off his chair during the interview with Jimmy Kimmel
The actor went on to chat (animatedly) about the final 'Twilight' instalment, his 'too big' shoes, skydiving 'on Australia', the US election and his kissing technique ('it sounds like I'm walking around in wellies').
If only all celeb interviews were this entertaining.
Click the video above to watch the first part of Robert's interview with Jimmy Kimmel and then click below to watch more...
BECOME AN 'X FACTOR' STAR WITH THE CHANCE TO WIN A RECORDING STUDIO SESSION