Anyone feeling particularly tired this morning as they go online could be forgiven if wondering if it's still Halloween.
Google's new Google Doodle depicts a vampire stood before a castle - a suitably Gothic tribute to author Bram Stoker who, if only he shared the immortality of his most famous creation, would have been 165 today.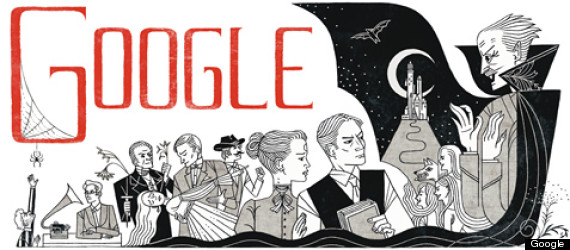 Stoker's 1897 novel Dracula introduced the world's most famous blood-sucking monster, the Count who attempts to leave Transylvania for England but first must battle Professor Abraham Van Helsin and his band of unhappy locals.
Although a sluggish seller when it was first released, Dracula was immediately hailed as a masterpiece and described by one newspaper reviewer as being more powerful that Mary Shelley's Frankenstein (released 79 years earlier in 1818), the novel with which is now competes as history's most famous example of Gothic horror fiction.
The myth of vampires dates as far back as prehistoric times but Stoker was the first to define the modern form of what is now a familiar creature: we can thank him for everything from Nosferatu to the more recent Twilight series.
Inspiration for the novel is believed to have risen from Stoker's time serving as a civil servant in Dublin Castle and from his friend Sir Henry Irving, a Shakespearean actor whose mannerisms provided the basis of the character.
Stoker died of a stroke in 1912 having written 18 other lesser-known books.
CLICK through the slideshow for a selection of the Google Doodlers' favorite doodles:
Google Doodlers Pick Their Favorite Doodles