Heart-warming, hanky-wringing, tear-jerking: Yes, it's that time of year when John Lewis hijacks the nation's collective emotions with its Christmas advert.
This year we can expect to turn misty-eyed over the journey of a love-struck snowman.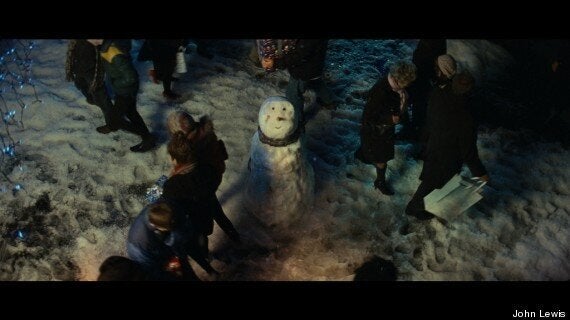 Love-struck: An amorous snowman features in John Lewis's Christmas advert
Launching tomorrow, the ad opens in a family's snow-covered garden, with children making a snowman and a snowwoman.
When the snowman has mysteriously disappeared the next morning, the audience is transported to a magical world, following the determined snowman on an epic journey across river, mountain, road and city.
Gabrielle Aplin croons a version of Frankie Goes to Hollywood's The Power Of Love as we wait to learn the motive for the snowman's frantic journey.
The John Lewis Christmas advert has become such a highly anticipated event that Channel 4 began airing teasers for it earlier this week.
"More than that, it will be 'premiered'. The channel will give over a whole commercial break on Saturday night and introduce the advert as if it was a feature film."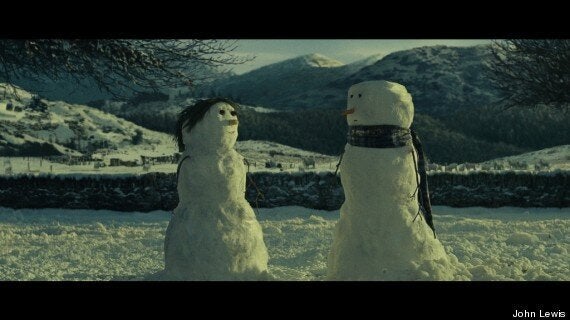 The motive of the snowman's journey is revealed at the end of the ad
Created by advertising agency adamandeveddb, the ad will see its first full broadcast during Derren Brown: Fear and Faith at 9:10pm this Friday.
John Lewis Marketing Director Craig Inglis, said: "We know that our customers find put real effort and emotion into finding the perfect gift for their loved ones at Christmas. This year's ad brings that to life, with a creative twist, as we follow our hero on an epic journey."
Gabrielle Aplin said: "I've always been such a fan of the John Lewis Christmas ad and its great to be a part of it, especially with a great song that fits the visual perfectly."