Sir Alex Ferguson has insisted Manchester United are not reliant on Robin van Persie.
The Dutchman has enjoyed a superb start to his United career and took his goal tally to 11 in 14 games when he began the Red Devils' 3-1 comeback in Braga on Wednesday.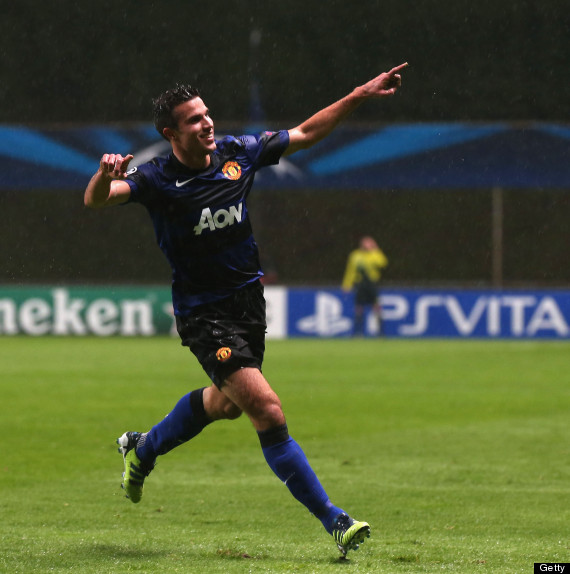 Van Persie's arrival heralded United's comeback in Braga
Despite his arrival from the substitutes bench heralding United's recovery, Ferguson does not believe United are dependent on the PFA Player of the Year.
"I don't think it's a problem relying on Robin," Ferguson said. "Last year, we lost (the title) on goal difference. I don't expect us to lose on goal difference again."
Ferguson's team have won every game in which the 29-year-old has scored on their rise to the Premier League summit and qualification for the Champions League group stages with two games to spare.
"Van Persie is experienced," Ferguson added. "He had eight years at Arsenal and that helps. He has come to us at the right time."
Javier Hernández is United's second top scorer with six goals, while Wayne Rooney netted his third with the winner against Braga with a penalty.
Ferguson is delighted with the pair of strikers' form after slow starts to the season for the duo.
"The way Javier has started this season, I'm certain he'll get to 20 goals plus," said Ferguson. "Wazza will get there too, he'll get 20 goals plus I'm sure. It's a healthy combination we've got there."
A visit to Aston Villa on Saturday could well bring more cheer for United. In 16 Premier League trips since their last defeat, United have won 11 and drawn five against the Villans.
The Midlands' club's last victory over United at home was on the opening day of the 1995-96 season with a 3-1 victory. The defeat prompted Alan Hansen's infamous analysis of United's campaign to come...
Ferguson's Eric Cantona-inspired side went on to win the Premier League and FA Cup that season.