Wilfried Zaha has demonstrated his considerable confidence by declaring Lionel Messi and Cristiano Ronaldo are the only players who make the England squad member feel inferior.
Zaha was drafted into Roy Hodgson's depleted and experimental squad for Wednesday night's friendly with Sweden on Sunday evening after a flurry of withdrawals through injury.
The Crystal Palace winger has been in tremendous form in the Championship, scoring four goals and providing three assists as the Eagles sit atop of the 24-team pile with 33 points.
But despite playing in the second tier of English football Zaha was candid about his cocksureness.
"I want to come up against defenders who will properly test me," he told The Guardian. "I'd never look at someone and think he's better than me, unless it's Cristiano Ronaldo or Lionel Messi. When I get on the pitch it's my time."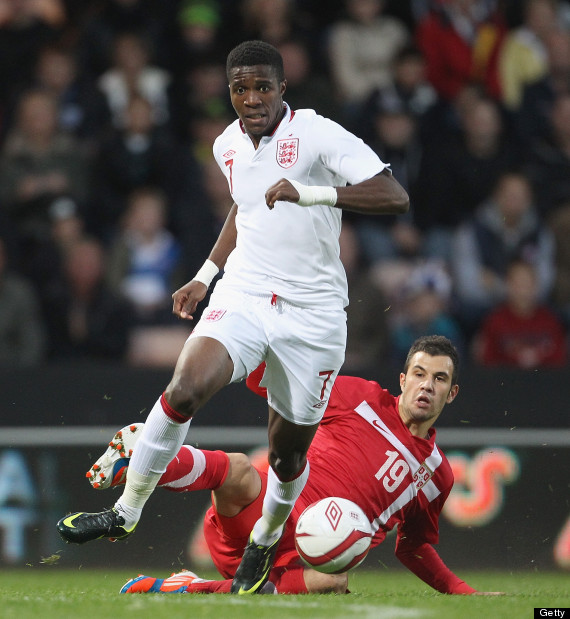 Zaha could compete at next summer's Under-21 European Championship
When it was suggested Ashley Cole, one of the best left-backs over the past decade, would pose a problem, the right-winger was complimentary but borderline dismissive.
"Well, obviously, he's a good defender and he'd want to get tight to me. I like to drift into midfield so, if I do, he won't be able to stick with me.
"Once I get turned that gives me the chance to do what I do against him. Maybe he'll be able to deal with it but that's when I can test him, isn't it?"
Zaha had no qualms about namedropping Danny Murphy as a player he can expose with ease, either. He described himself as "10 times faster" than the Blackburn midfielder, which meant he "didn't have to do any trickery".