As if hyper-realistic painting wasn't difficult enough, Australian artist Robin Eley makes his work even harder by dressing his subjects in plastic sheets.
The challenge then becomes not only to recreate the human face and body with such accuracy you'd swear you were looking at a photography, but the tones, shades and reflections of several folds of material, too.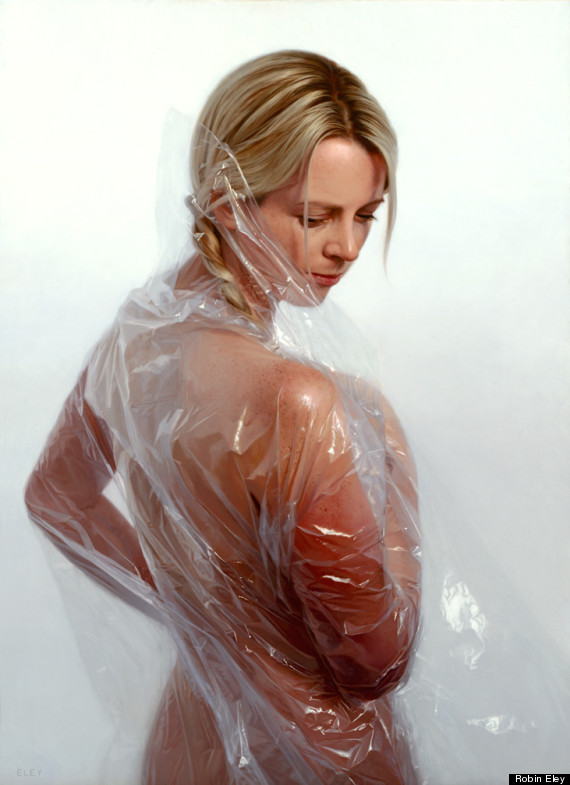 Resolute, by Robin Eley
The resulting portraits won runner-up in the Australian Doug Moran National Portrait Prize, and will soon go on display at New York's Bernarducci Meisel Gallery where he is exhibiting in January 2013 and at the Hill Smith Gallery in Australia four months later.
Born in London, Eley grew up in Australia before moving America to study psychology - a subject he dropped to focus on art. Inititally a commercial artist, he adandoned that in 2009 to focus on fine art and had his first solo exhibition in February of this year in Australia, where he is now once again based.
The 'Singularity' series, he tells us, was inspired by what he believes to be "the growing isolation within modern culture and how the technologies once lauded for connecting us are now being to used to keep us separated.
"By metering our time and reducing our communications to like buttons and text shorthand there is so much that has become invisible, so much that we simply don't see anymore... and often it's the things that are the most emotional and difficult to deal with. This was the inspiration for the plastic."
Reaction to the series, he says, has been "overwhelming".
"All 15 paintings were sold a week before the ['Singularity'] exhibition opened.
"One of the great ironies being that while the exhibition was, in part, a commentary on the pitfalls of modern technology, as the exhibition had yet to open, all but one of the paintings were purchased by collectors who had only seen the work online."
To continue the irony, take a look at more of Eley's staggering paintings in our (online) gallery below:
Hyper-Realistic Paintings
Watch how he does it: