The Home Office has announced the number of arrests at football matches involving teams from England and Wales has dropped by nearly a quarter.
Arrests at domestic and international fixtures in 2011-12 fell by 24% to 2,363 - 726 fewer than in the previous year.
Policing and criminal justice minister Damian Green said football-related arrests are now at an "all-time low".
"Where hooliganism was once described as 'the English disease', we now set an example for others to follow," Green said.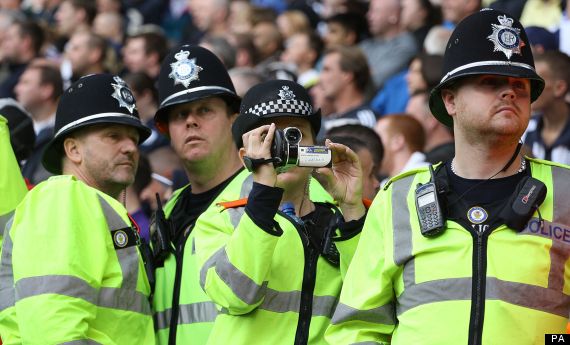 Police were not present at 53% of matches last season
"No English supporters have been arrested for football-related offences at the last two major international tournaments, and domestically more than half of all matches had no police presence last season - freeing up officers to be on the beat in their communities.
Green warned "football disorder has not been eradicated" and remains a "lingering threat", but an average of 0.72 arrests - less than 1 - were made per match, according to figures published by the Office for National Statistics.
Fifty-three per cent of matches last season did not include a police presence and banning orders have fallen from 3,173 to 2,750. Just 27 arrests were made among the 100,000-plus army of English club football fans who travelled to 47 Champions League and Europa League matches.
Football is still tainted by its hooligan past despite declining attendances and moribund atmospheres, with the Stoke City striker Michael Owen vowing he would not take his children to a football match.
The London 2012 Olympic Games were trumpeted for the positivity generated among spectators from all corners of the globe, but football's tribalism is not tailored to accommodate supporters of rivals.