She's blonde, she's beautiful, she's famous, she's topless and she's in her knickers.
TV starlet and model Joanna Krupa ticks those PETA boxes alright - until your gaze drifts down to her nether regions, where poking out the sides of those frilly pink knickers are overgrown tufts of hair.
"Fur Trim: Unattractive" screams PETA'S latest collaboration with the Real Housewives of Miami cast member, who has posed twice before for the group.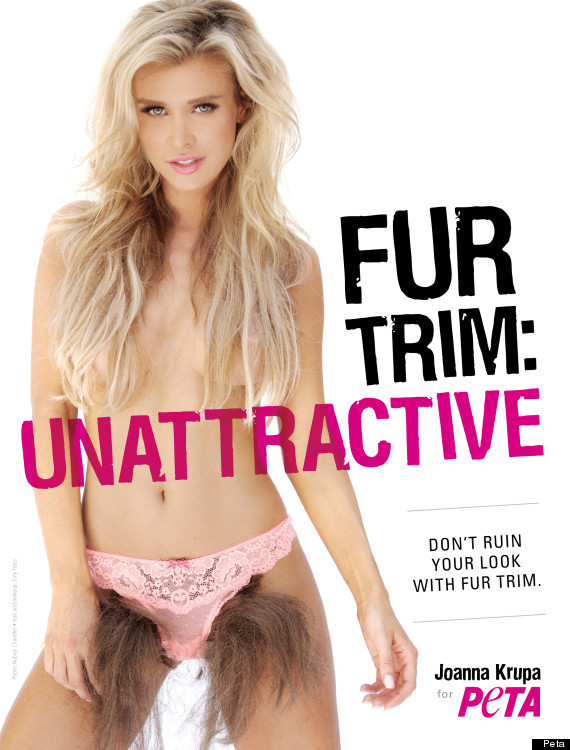 Pubic scare: Joanna Krupa in her latest PETA ad
Um, so we think we get the gist of what PETA's trying to say, but is suggesting a woman's untrimmed pubic hair is sexually repellent and akin to wearing the parts of a dead animal quite the way to go about it?
Krupa, via a press release from PETA, says: "I wanted to do this campaign to keep talking to people about how bad fur is. Stop! Fur is not sexy. It's not cool.
"You're walking down the street wearing fur—you really look like an idiot!"
Hmmm. Does that mean you look like "an idiot" if your pubic hair is not perfectly groomed and concealed within the confines of your teeny tiny lacy pink knickers?
Female pubic hair is one hot potato at the Huffington Post UK at the moment. On Monday blogger BJ Epstein expressed dismay at Cameron Diaz's "hilarious" anecdotes about forcibly trimming a friend's pubic hair.
Noting Movember is the month men are encouraged to grow a 'tache, she slams down the gauntlet and challenged women to follow suit - on their lower lips.
We might even suggest that a "proper muff" should, in the words of Caitlin Moran, look "as if she has a marmoset sitting in her lap."
Don't think Krupa and PETA would approve...
Check out a behind-the-scenes video from Joanna Krupa's PETA photo shoot, along with more photos of the model, below.
PICTURES: Click here to see ladies growing armpit hair to raise awareness of body image
Joanna Krupa PETA Photos and More