Businesses looking to boost website traffic have named having live chat windows as their favourite application.
Statistics shown to Huffington Post UK by Wix.com, a free website builder for the SME market, showed chat windows were the most popular download, followed by Instagram feeds and an app which builds online forms.
Coupon generators, providing money off vouchers or discounts for customers, were also popular, and a Movember app which sticks a moustache on your site to show you're supporting Movember, just missed out on the top 10, placed 11th in the most popular downloads.
Wix.com has helped create 22,756,521 websites for UK SMEs; basic sites are created for free, but additional premium products can be added for a cost.
The full Wix list is below:
1) LiveChat - enables the visitors of the website to chat in real time to the company. This helps the business offer live customer service, helping them to solve problems quickly and drive more sales.
2) Instagram Feed - does what is says on the tin - allows the website visitors to upload your Instagram photos directly to your site anywhere, anytime. It helps SMEs to share moments, new products or events, as well as keeping the site looking fresh and new.
3) 123ContactForm - creates custom forms for your website, such as contact forms, get-quote forms, event registrations, surveys. The best bit is no programming experience is required. The app also lets you customise email notifications and 'thank you' messages for your visitors, set dynamic behaviour based on conditional logic, and translate forms into multiple languages and sync them with Google Docs, MailChimp and other popular apps.
4) Tumblr Feed - allows you to share your Tumblr blog posts, photos, quotes, links, music and videos from wherever you happen to be directly on your site. This adds dynamic content to your site regularly, helping to keep visitors engaged.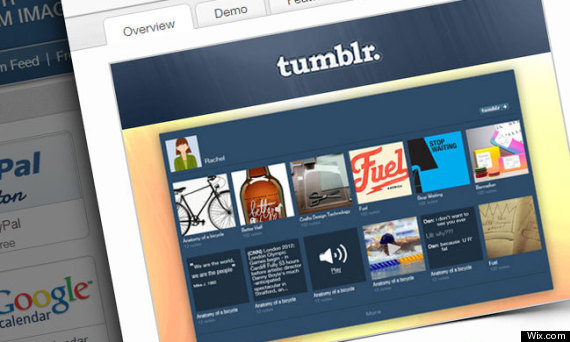 The Tumblr App
5) SoundCloud Playlist - allows you to connect your site to your SoundCloud account and share your playlists. Particularly helpful if your business is music related as it can resonate your loves with that of your customers.
6) TargetHero - adds every user that signs up on your site to your lists, allowing you to create targeted emails. Also provides information on who opened your emails, which ones bounce and clickthroughs.
7) Appforma Coupons - creates coupons, to help you reward your users, get viral traffic and develop new leads. For businesses that use promotions, this app could prove invaluable.
8) Traffic Generator - creates a user exchange ecosystem that drives targeted & relevant visitors to your website.
9) Appointment Booking - book appointments directly on your website, helping to maximise your schedule, reduce no shows with automatic reminders, and get more customers.
10) Pnyxe Comments - Lets your visitors collaborate with each other and with yourself via a professional forum page on your website. Businesses could use it as a support forum, fan forum or just a general discussion forum.