A fire at an industrial estate involving three fuel tankers is being treated as suspicious, police said today.
Emergency workers were called to the blaze at Lady Lane Industrial Estate in Hadleigh, Suffolk, at about 6.45pm last night.
In a statement today, Suffolk Constabulary said: "This morning, Saturday 17 November, fire and crime scene investigators have been at the scene to try to determine the cause of the blaze.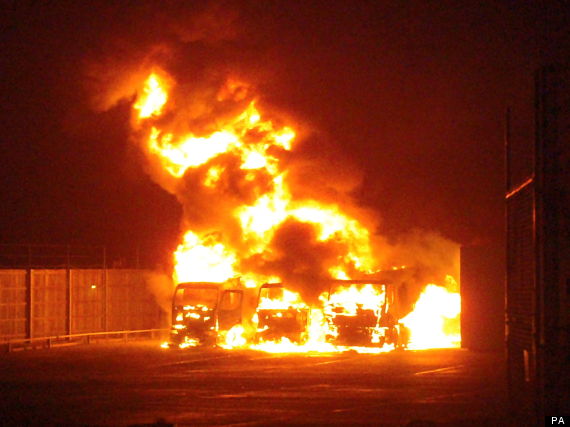 An investigation is under way after a fire ripped through three mobile fuel tankers at an industrial estate
"These inquiries are continuing but the fire is being treated as suspicious.
"Police have started inquiries to trace who started the blaze and are appealing for anyone with information to come forward."
Ten fire vehicles attended the "major incident" and firefighters worked throughout the evening to prevent the fire spreading across the site, Suffolk County Council said last night.
Police said the tankers contained a total of 35,750 litres of kerosene, gas oil and diesel.
Residents in the area were warned to stay indoors and keep their doors and windows closed as a 300 metre (984ft) cordon was set up around the blaze and the A1071 was closed to traffic.
Emergency planning officers were also at the scene on standby to begin an evacuation, but it was not needed as firefighters managed to extinguish the blaze before midnight.
A council spokesman said last night: "Suffolk fire and rescue has extinguished the fire at the Lady Lane Industrial Estate.
"Firefighters worked throughout the evening to prevent the fire spreading from three mobile fuel tankers to other parts of the industrial estate."
Police reopened the A1071 and lifted the cordon last night, but the emergency services remained on the scene during the early hours to ensure the area was secure. No-one was reported injured in the incident.