Television presenter Richard Arnold has become the latest contestant to leave 'Strictly Come Dancing' on the week the show swapped the Strictly ballroom for Wembley Arena.
The 42-year-old, 'Daybreak's showbusiness expert, said the amazing thing about the show is that the "party is happening in millions of homes around the country".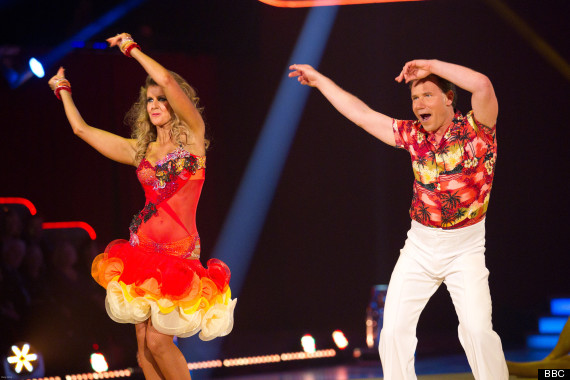 Richard Arnold and Erin had to say goodbye, but Richard revealed he'd had a ball
After the judges' scores were combined with viewer votes, Arnold and his partner Erin Boag faced former Westlife star Nicky Byrne and his partner Karen Hauer for a place in next week's show.
Three of the four judges chose to save Byrne which meant Arnold had performed his final dance on the BBC1 show.
Judge Craig Revel Horwood said: "Just for sheer exuberance and energy, I am going to save Nicky and Karen."
Judge Bruno Tonioli said that while both couples were "highly entertaining", he had to go with the "power and content" delivered by Byrne and Hauer.
Who do you think will be taking home this year's trophy?
Speaking after his fate was sealed, Arnold said: "I've loved it. Do you know what is amazing about this experience is that this party is happening in millions of homes around the country. The one thing I'll take from it is that now when I walk down the street people no longer cross the road to avoid me!
"Now they smile, they want to chat. It's been amazing. You guys here have been amazing."
The presenter said he will be celebrating his birthday next weekend, but will have to accept he will not be ringing in another year by performing to millions on television.
"I know where I'll be next week - it's my birthday, it's a Saturday, I'll be with my godchildren, with my family and friends who have been going through the whole thing, and I'll be popping a cork and seeing who is here next week. It's extraordinary, this show just gets better and better," he said.
Strictly Come Dancing At Wembley