UPDATED - 20/11/12
It was the simple tree trunk that helped inspire one of Britain's biggest art shows, but now David Hockney's beloved 'totem' has been destroyed in what the artist has described as an 'act of spite'.
Talking to the Guardian - who also reveal a new sketch of the stump by the artist - Hockney said: "It is something that has made me depressed. It was just a spite. There are loads of very mean things here now in Britain."
Hockney spent seven years sat among the hedgerows and country paths of the Yorkshire Wolds, obsessively capturing different vantage points as they underwent the changes of the seasons.
The result was 2012's A Bigger Picture, a widely-praised exhibition at the Royal Academy that was arguably the highlight of an art year that also included solo shows from Lucian Freud and Damien Hirst.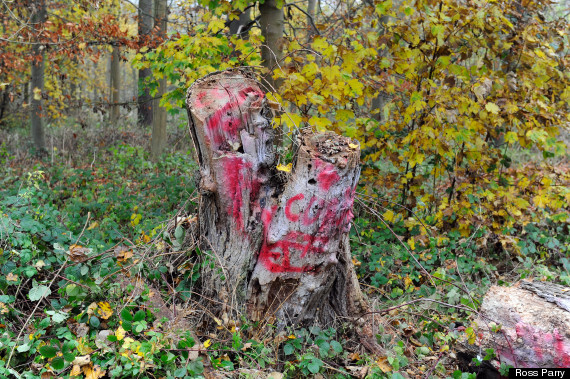 The vandalised remains of Hockney's 'Totem'
SEE ALSO -
Such was the impact of A Bigger Picture, the remote part of East Yorkshire found itself enjoying a minor tourist boom as the artist's devotees went in search of the beauty spots he immortalized - including the 12ft high tree trunk he called 'totem' that starred in at least two of his works.
But after paint was daubed over the trunk last month, now vandals have attacked again - this time wielding a chainsaw. As the tree is technically on private land, there is nothing the East Riding of Yorkshire council can do about it.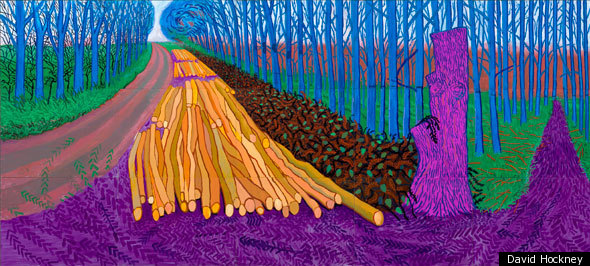 Winter Timber, 2009, one of the artworks inspired by the trunk
Gary Verity, chief executive of Welcome to Yorkshire, told the Daily Mail: "We are disappointed to see the totem has been felled.
"It was an iconic image that helped put the Yorkshire Wolds on the map for millions of people around the world and we hope it's loss does not deter people from visiting this underrated part of England."
Acts of vandalism have long plagued the art world, including earlier this year when a Mark Rothko painting was scribbled on at the Tate Modern.
Highlights from Hockney's A Bigger Picture: