The last typewriter built in the UK has rolled off the production line.
Brother, which has made almost 6 million typewriters since it opened in 1985, said the last machine was built in Ruabon, North Wales.
The final Brother CM1000 electronic typewriter will be donated to the London Science Museum, it was reported.
At its peak in the early 90s, the factory made 2,500 typewriters per day with 300 staff.
Brother apparently still sells enough typewriters to stay in business - most apparently in the United States - but the machines are made in Asia and the UK factory no longer paid the bills. Instead, the factory will be used to recycle printer cartridges and make other machines - which now form the bulk of the company's bottom line.
In an interview on BBC Breakfast, Brother's UK chief said that donating the machine to a museum was "fitting tribute".
"Because of this, and the typewriter's importance in the history of business communication, we felt that giving it a home at the Science Museum would be a fitting tribute," he told the Beeb.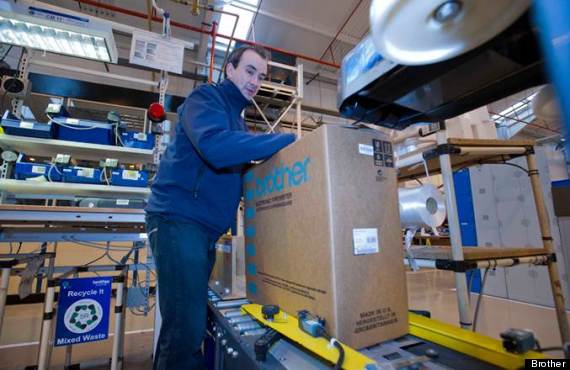 Above: the final typewriter rolls off the production line
The first typewriters were invented in the early 19th century, originally as a means to enable the blind to write. A writer built in 1829 by William Burt (the 'Typographer') is often cited as the first recognisable typewriter, but until 1870 neither it or any similar machine was made commercially.
It was the Hansen Writing Ball, invented by Rev. Rasmus Malling-Hansen of Denmark, which was the first commercially available typewriter - and the first to enable users to write faster than by hand.
Typewriters were dominant in many offices until the 1980s, when cheap personal computers made them largely obsolete. But they have retained support from many fans - enamoured either by the machinery or the ease of use they provide.
Phil Jones, UK country head of Brother said in a statement:
"We made the decision to end production of the typewriter simply because office culture has changed so dramatically since we began back in 1985. Employees are now much more collaborative, for example, sharing work using cloud computing and interacting more face-to-face, which has become easier and quicker due to new technologies such as web conferencing. Our business now focuses on bringing these new technologies to our customers.

"However, despite all these changes, the typewriter does hold a special place in the hearts of some of our most loyal customers and staff. Because of this, and the typewriter's importance in the history of business communication, we felt that giving it a home at the Science Museum would be a fitting tribute."