Roberto di Matteo's future at Chelsea is in jeopardy after the Blues were trounced 3-0 by Juventus on Tuesday night, leaving them on the brink of elimination from the Champions League at the group stage.
Chelsea must beat Nordsjaelland in their final match and hope Shakhtar Donetsk, who have already qualified for the knockout stage, defeat Juventus in a fortnight's time. Should Di Matteo's side go out they would be the first defending champions to do so at the first round of entry since Steaua Bucharest in 1986-87.
Di Matteo dropped Fernando Torres and deployed Eden Hazard as the in-vogue false nine in a bid to shore up the Blues' porous defence but Juve exposed those frailties with predictable ease as Fabio Quagliarella, Arturo Vidal and Sebastian Giovinco each scored for a comprehensive victory.
Torres, who has only scored 19 goals for the club since his £50m arrival in January 2011, replaced John Obi Mikel with 20 minutes to go but is in danger of resembling an orange in The Godfather.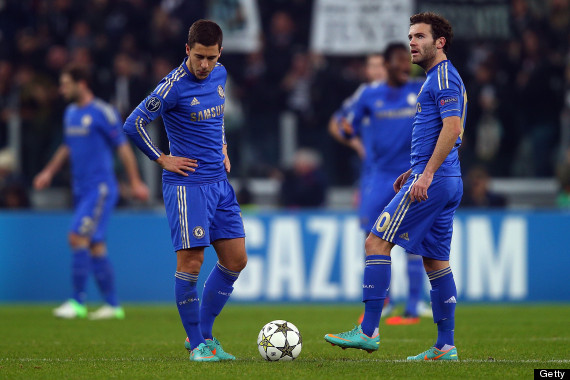 Eden Hazard and Juan Mata contemplate the predicament
The presence of the fruit throughout the trilogy indicates a death-related event will soon occur and after Carlo Ancelotti fell victim last year Di Matteo could be the second. That he dropped the misfiring Spaniard was neither a surprise nor unwise, however Chelsea's back-up striker who isn't a false nine is Daniel Sturridge, who is being heavily linked with a January transfer move to Liverpool. Nineteen-year-old Romelu Lukaku meanwhile was allowed to move to West Brom on loan.
Chelsea spent £79.5m in the summer on Hazard, Oscar and Marko Marin as Roman Abramovich pursued his dream of seeing his adopted club conquer Europe by playing vibrant football. 19 May 2012 may be remembered as the greatest night in the club's history but their display against Bayern Munich was a negative one.
What Abramovich ignored when he sanctioned the tens of millions to be spent on exciting attackers was that Chelsea's defence was in need of addressing as well. César Azpilicueta was brought in to solve the squad's problem position at right-back but John Terry aside Di Matteo does not boast a quality central defender with continental pedigree. David Luíz continues to toil with or without Terry while doubts remain over Gary Cahill's reliability at the highest level. The irony is his signing - a defensive one - came via the club's hierarchy in January as he soon found himself unwanted and unloved by André Villas-Boas.
Luíz and Cahill are also poorly protected by the nondescript John Obi Mikel, left to screen the defence by himself as the marauding Ramires offers a more attacking threat despite his box-to-box prowess. Di Matteo cannot be held solely responsible for such a disjointed XI but his two-year contract smacked of a stop-gap appointment. Only at Chelsea could a manager win the FA Cup and Champions League yet be in such an insecure position and the ludicrousness of the scenario is exacerbated by who could be caretaker should he be sacked.
Avram Grant, who has not managed since he oversaw West Ham United's relegation in 2011, and Rafael Benítez, discharged by Internazionale in December 2010 and without a job since, are the two candidates. Grant of course took Chelsea to two finals in 2008 and was the width of a post away from winning the European Cup with the club four years before Di Matteo, only that masked his obvious shortcomings as a manager which were exposed at Upton Park. Benítez's affinity with Liverpool meanwhile will make him an unpopular appointment amongst Chelsea supporters, notwithstanding his poor record in Premier League football.
Four weeks ago Chelsea were top of the Premier League and unbeaten only for Manchester United to end their superb start. Two hours later the Mark Clattenburg allegations were reported. A verdict on the Clattenburg row is expected this week and Manchester City arrive at Stamford Bridge on Sunday. The oranges might be piling up for Di Matteo.