As the chant promised, Roberto di Matteo has been sacked in the morning and Chelsea owner Roman Abramovich must now decide who will become the ninth manager in his nine years at Stamford Bridge.
Rafael Benítez is the frontrunner with the bookies, which is sure to disappoint the majority of Chelsea fans. Supporters unfurled a banner in March imploring the club not to appoint the former Liverpool manager when he was being touted as André Villas-Boas' successor, with the Blues eventually turning to Di Matteo.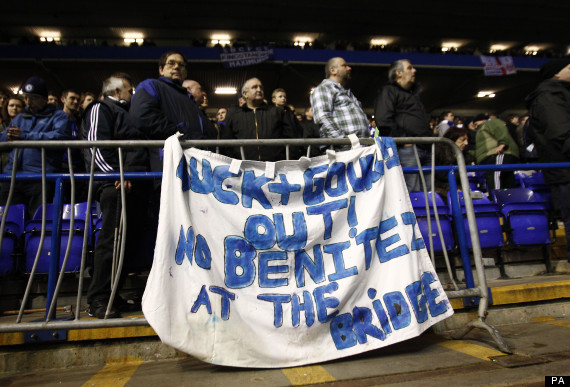 They're no Rafalites
Benítez is a contradictory candidate, too. Like Di Matteo, his Champions League success with Liverpool consisted largely of fortune and resilience, which doesn't chime with Abramovich's Barça-like idealism either.
Which leads us to Pep Guardiola. The Spaniard has apparently reaffirmed his wish not to return to management until next season, which has lead to Benítez being installed as favourite on a caretaker basis until Pep is available next summer.
Abramovich's predicament could come however via the eventual departure of Sir Alex Ferguson from Manchester United. The Scot's statue will be unveiled at Old Trafford on Friday as the curtain slowly draws to a close in his 27th year with the club. Ferguson met Guardiola in New York in September along with the club's chief executive David Gill and a member of the Glazer family. What could they possibly have discussed?
Beyond the two-time European Cup winner is Harry Redknapp. I'll allow you time to laugh. Finished? Okay then. Moving on...
Steve Clarke would be a popular if unspectacular choice among Blues fans. Doing excellent work at West Brom, Clarke played for the club for 11 years and was highly thought of by José Mourinho when his assistant during their trophy-laden three-and-a-bit seasons at the club. His managerial career is however in its infancy and such a sharp ascension is unlikely.
David Moyes is omnipresent in 'next manager' lists and Chelsea are no exception. He would jump at the chance if offered the role but like Clarke he is not the marquee managerial name Abramovich craves. Then again, neither was Di Matteo...
Beyond those two Scots are Fabio Capello, recently appointed coach of Russia, Mourinho, another former Blues manager in Guus Hiddink and the unemployed Laurent Blanc.
Blanc had been sounded out by Chelsea with a view to taking over after Euro 2012 but France's dismal campaign, avec in-fighting and clashes of egos, has harmed Le President's previously burgeoning managerial reputation.
Guus Hiddink's golden touch has faded in recent years after he failed to take Russia to the 2010 World Cup finals or Turkey to the Euros, so he is currently making God-knows-how-much at Anzhi Makhachkala. The Russian links are not to be snuffed at though. Here's hoping, eh Fabio?
And finally to Mou. Maligned even by his own fans in Madrid, he would love to come back to the Premier League but has previously stated it would not be with Chelsea. He did buy a London property earlier in the year though and has made amends with Abramovich since his 2007 sacking.
Next Chelsea manager (odds via William Hill)
6/4 Rafael Benítez
7/4 Pep Guardiola
5/1 Harry Redknapp
10/1 Steve Clarke
16/1 David Moyes
25/1 Fabio Capello, José Mourinho, Guus Hiddink, Laurent Blanc