Meet Theo, the snaggletoothed old man with the immense wiry beard, a product of Greek and Indian lineage, described by his creator 'the Devil's advocate out to confront new age society's ails'.
Any depiction of this real life character would be striking, but what is all the more remarkable about Scottish artist Douglas McDougall's portraits is that they've been made using only charcoal and paper.
Achieving a level of hyper-realism you would normally associate with specialised skilled painting, McDougall tames this most raw and unruly of materials to create something that looks like an up-close black and white photograph.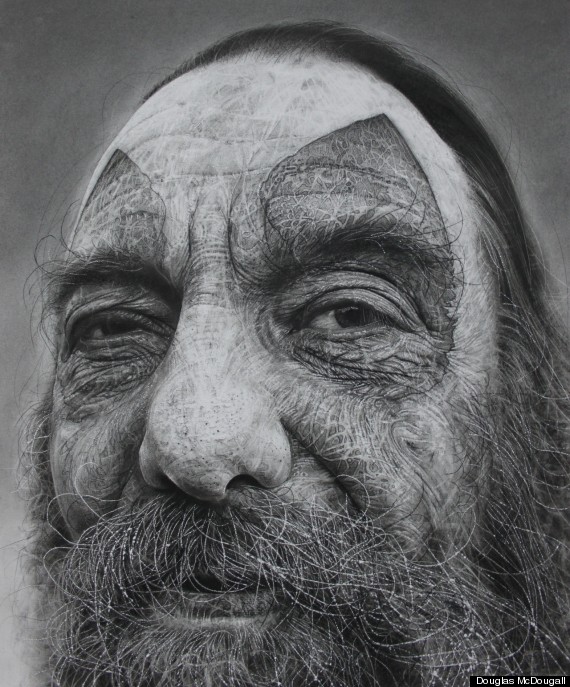 Theo, by Douglas McDougall
Describing himself as a "geographer of the human face and psyche", McDougall told us how he found his remarkable subject walking around the streets in South London.
"I'd just moved to a new area, and there was a row of houses by a church that looked totally derelict and boarded up," he remembers.
"I walked past them and then out came Theo, emptying his bins. I thought he was an amazing looking character, so I asked if he'd be interested in doing a photo shoot.
"He agreed and I ended up spending a fair bit of time with him in my studio. He said he was about 67, but I am not sure if he knew himself.
"Sometimes he looked like an old man, sometime he looked younger, almost heroic. He had a seasonal change to his face. He didn't say much, but I learnt he was well educated and a musician too. There was an eloquence in the way he talked.
"He took me into his house once and there was no daylight in there. There was just a keyboard in the middle of the living room and some stuff he seemed to have collected from outside.
"He was half on the planet and half not, I think he had an event in his past that meant he was never really fully there. But I didn't want to unhinge him or dig into his past. As an artist, preserving the mystery seemed like a positive thing."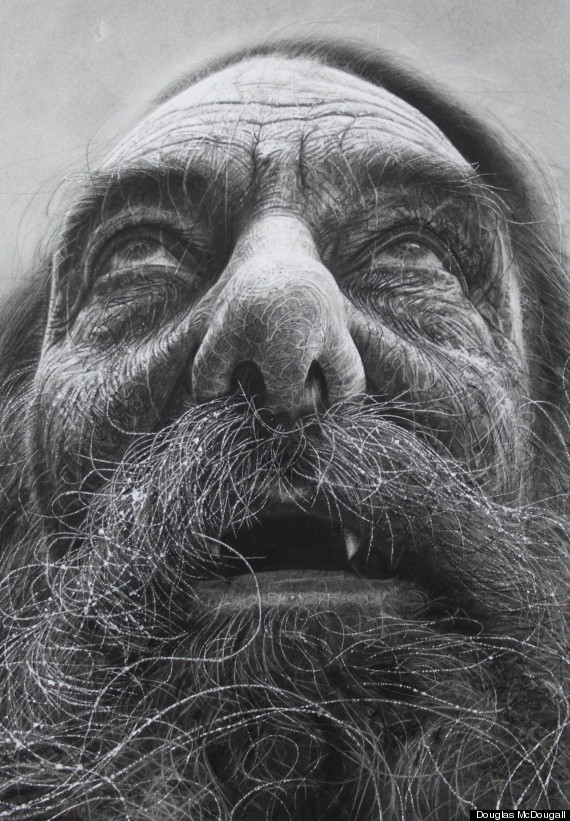 Learning a little about McDougall's own past, you get a sense of why he might have felt drawn to such a solitary figure. On his website he describes a lonely childhood living in "disenchanted households" and being unable to bond with his Mother because she suffered from depression.
Like many young artists, he discovered drawing early as a way of comfort, but didn't discover his true vocation until after a spell at university.
"From 92 - 94 I was studying fine art at Glasgow School Of Art, but I dropped out in my second year because I became a bit disillusioned by it all," he says.
"I was the odd kid on the block, wired to the past while my peers were starting to look up to the likes of Bill Viola and especially the YBAs. I just wasn't hitting my stride at all and I was still on that whole Glasgow Boys trip from very nearly a decade earlier.
"Then I inherited a little money in the summer of 94 and spent that and a good deal of time in New York, which turned out to be the only art education I ever needed. The city quite simply opened my eyes in many ways and blew my mind."
After returning to England and discovering Theo, McDougall has worked on his muse's face for the past seven years, exhibiting a solo project in Copenhagen. Now he's working on a new show that expands the character's stroy, and hopes this will lead to the opportunity to exhibit in the place where it all began.
"I'm hoping to show him at next year's Frieze art week," he says.
"Thought Theo has proven a success abroad and been picked up by a lot of blogs online, no-one in London has really seem him yet."