Residents and motorists can expect a further 24 hours of flooding misery after experts predicted another night of heavy rainfall.
Homes were flooded and roads underwater today as downpours caused widespread disruption across Britain.
Vehicles were abandoned and there were reports of entire villages being cut off as floodwater surged through lanes and streets and into homes. Water hassle: Flooding has been exacerbated by saturated ground
The south west of England bore the brunt of the weather, with two inches of rain falling during 12 hours last night.
The Environment Agency tonight told communities in the West Country to brace themselves for further problems.
It is possible that up to 60mm (5in) of rain will fall on already saturated ground, leading to river flooding during the next 24 hours. Strong winds could yet worsen conditions, particularly surface water flooding, as leaves and debris block drains and channels.
Environment Agency teams are on the ground across the country clearing watercourses of debris and monitoring river levels, and will be out in force over the coming days.
Pete Fox, the Environment Agency's head of flood risk strategy, said: "There is already significant travel disruption due to the wet weather and we would urge people to remain vigilant as further flooding is possible across the South West tomorrow.
"People at flood risk should move their valuable possessions to a safe place before the heavy rain falls later tomorrow.
"We also ask that people stay safe, by staying away from swollen rivers and not attempting to drive through floodwater."
There were major problems on the roads today, with the AA being called to hundreds of weather-related breakdowns.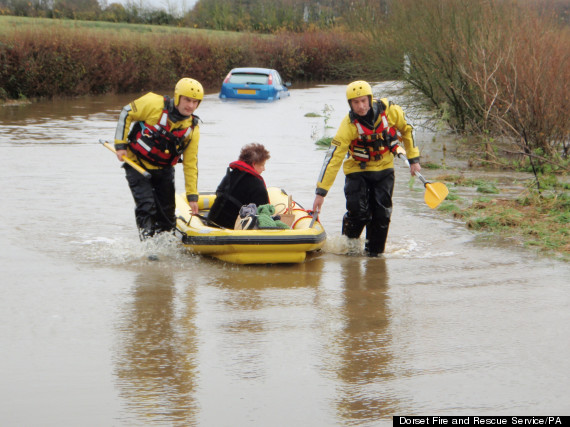 Hull of a situation: A motorist is rescued in Dorset
By 4pm, the AA had attended more than 8,000 breakdowns nationally - 37% busier than normal - including 499 floodwater-related callouts.
A spokesman said flood-related work was concentrated around the M5 corridor but was also affecting Worcestershire and south Birmingham, with many roads reportedly impassable.
Darron Burness, the AA's head of special operations, said: "It's been very bad today in the Midlands and South West, with the weather causing extremely challenging driving conditions.
"Unfortunately, the forecast for tomorrow is even worse, with heavy rain forecast across a wider area - particularly the South West, South Wales and Scotland - so drivers need to plan accordingly and keep tuned to local traffic and weather reports."
Dozens of schools were closed and businesses including pubs and restaurants forced to turn away customers following the floods. Emergency services in Somerset were also called to a flooded property to help rescue a woman who had gone into labour and needed to get to hospital.
Helen Rossington, forecaster with MeteoGroup - the meteorological arm of the Press Association - said the effect of the overnight rainfall was made worse by recent wet weather.
"We tend to get this sort of weather in autumn, but it has fallen on to already saturated ground which has caused the flooding," she said.
"But we're expecting more rain and it will become more windy into Thursday. The rainfall will cause yet more problems."
The Environment Agency put more than 200 flood warnings and alerts in place today, mostly in the south west of England and the Midlands.
It prompted emergency services to issue warnings to motorists to take extra care on the roads.
Devon and Cornwall Police said there had been a number of reports of standing water on roads, creating a risk of drivers aquaplaning and potentially losing control of their vehicles.
A spokesman said: "There are significant incidents of standing water being reported on the roads, and so we need drivers to take extra care and adjust their braking times accordingly.
"Drivers need to match their speed with the conditions."
Other police staff took to social networking sites to issue safety advice. Community support officer Sarah Giles, from the Topsham area of Exeter, wrote on her Twitter page: "Honestly guys, roads have become rivers lots of surface water some quite deep. Slow down, it's safer, and it's considerate."
Dozens of schools across the south west of England were also forced to close.
In most cases, access roads were blocked and deemed impassable, preventing staff and parents from arriving at school. Twelve schools in Devon were closed and 17 in Somerset, two of the worst-hit counties.
A statement from North Curry C of E Primary School, east of Taunton in Somerset, said: "The village and roads leading in are flooded and only a couple of staff members can get in.
"Also, parents cannot get the children through the floods. It is treacherous and the rain shows no sign of easing."
Many schools said they expected to reopen tomorrow, weather permitting.
Earlier this week, more than 100 residents were evacuated from their homes and transport links were cut off after persistent heavy rain caused flooding in Scotland.
At the Port of Dover in Kent today, winds gusting to Force 8 caused disruption to all cross-Channel ferry crossings this afternoon.
A port spokesman said all services with P&O Ferries, DFDS/LD Lines and MyFerryLink to Calais, and DFDS Seaways crossings to Dunkirk experienced delays.
Passengers were advised to contact their operator for further details.