A hair fetishist who murdered and mutilated a mother of two won an appeal today against an order which prevented him from ever being released.
Danilo Restivo had his "whole-life" tariff overturned by the Court of Appeal.
He was ordered to serve a minimum term of 40 years instead.
Five judges in London also announced that they were reducing the whole-life order imposed on "Bermondsey Beast" rapist Michael Roberts to a minimum term of 25 years.
But the court refused to quash the whole-life order in the case of killer David Oakes, who "sadistically tortured" his former partner before shooting her and their two-year-old daughter.
The panel, headed by Lord Chief Justice Lord Judge, also upheld the 30-year minimum term imposed on Kiaran Stapleton, who was jailed for life after he "executed" a stranger in the street.
Although the judges overturned the whole-life orders in the cases of Restivo and Roberts, they announced that the imposition of such orders was not incompatible with Article 3 of the European Convention of Human Rights, which prohibits torture and inhuman or degrading treatment and punishment.
The appellants are all still subject to life sentences. Those with a minimum term can apply for parole once that has expired, but they would not be released until they are deemed to no longer pose a threat to the public.
Lord Judge said he thought it was "highly unlikely" that any of the five would be released.
The minimum term imposed in the case of Restivo is the equivalent of an 80-year determinate term, with the 25 years in the case of Roberts being the equivalent of 50 years.
Restivo was given a whole-life tariff in June last year for the "depraved" and "callous" murder and mutilation of a mother-of-two in Bournemouth.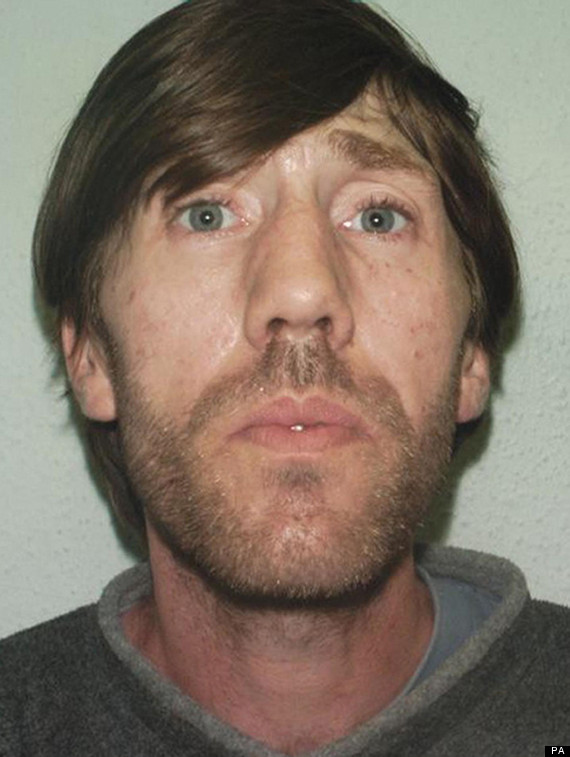 Five judges in London also announced that they were reducing the whole-life order imposed on "Bermondsey Beast" rapist Michael Roberts to a minimum term of 25 years
The Italian national, now 40, was found guilty by a jury at Winchester Crown Court of the 2002 murder of neighbour Heather Barnett, 48.
Rapist Roberts, who terrorised elderly women in a London suburb for more than a decade, was jailed in January and told he would live out his days behind bars.
Roberts, now 46, joined a small group of "life means life" prisoners after raping three victims - one aged 83 - and viciously attacking a fourth in Bermondsey, south London.
He evaded justice for 15 years but was captured after a cold case review by Scotland Yard.
Oakes, 51, of Canney Road, Steeple, Essex, who "sadistically tortured" his former partner before shooting her and their two-year-old daughter, was told at Chelmsford Crown Court in May that he will never be released from prison after a jury found him guilty.
He went to Christine Chambers's house in Braintree where he killed her and daughter Shania with a shotgun.
Stapleton, 21 - who labelled himself "Psycho" when he appeared in court - shot Indian student Anuj Bidve, 23, at point-blank range in Salford, Greater Manchester.
Lawyers for those with a whole-life order had asked the court to set a minimum term instead.
David Perry QC, for the Crown, told the judges at the hearing of the appeals that it was seeking to "support the whole-life orders made in the cases of Oakes and Restivo", and the minimum term imposed in Stapleton's case.
In the case of Roberts, it was conceded that the making of a whole-life order was "wrong in principle".
But he stressed that in making such a concession, "we are not seeking to minimise the seriousness of the offences".
He added: "Our submissions are intended to reflect the fact that a whole-life order is reserved for rare cases of exceptional gravity, where a whole-life order is made for the purpose of pure punishment, and not for public protection."
Lord Judge said: "We should perhaps emphasise at the outset that each of these appellants is dangerous, and on the available evidence, likely to remain dangerous for the indefinite future.
"At present it is difficult to see how it will ever become safe for any of them to be released from custody."
The judges also allowed an appeal by rapist David Martin Simmons, 40, against a whole-life order, replacing it with a ten-year minimum.
He pleaded guilty to rape and false imprisonment and was sentenced to life in December 2004.
The trial judge did not specify a specific term, but on his transfer from Broadmoor Hospital back to HMP Bristol in 2010 he was told for the first time that he was regarded as a whole-life prisoner.
Lord Judge said that "profoundly disturbing as this offence certainly was, it was not an offence of the extreme level of seriousness to justify a whole-life order".
He emphasised that the court was "not suggesting for one moment that David Simmons will be safe to be released at the conclusion of the ten-year period".
He added: "We note that it has been necessary for him to spend time in Broadmoor Hospital and we suspect that his release is most unlikely."
Giving judgment on Restivo's appeal, Lord Judge said the "significant feature" in the case arose from events which took place in September 1993 in Potenza, Italy.
Sixteen-year-old Elisa Clap was murdered and left in the loft of a church and was not discovered until March 2010.
The judge said the evidence relating to her death was admitted before the jury at Winchester Crown Court as part of the evidence to prove that Restivo was guilty of the murder of Heather Barnett.
At that date he had not been convicted in Italy of the teenager's murder. After his conviction at Winchester, Restivo was convicted in his absence of the murder in Italy.
Lord Judge said: "The (trial) judge properly and expressly rejected the notion that he should pass sentence for the murder of Elisa Clap.
"Nevertheless, he undoubtedly took into account his belief that the appellant was guilty of that offence in deciding that a whole life term was appropriate.
"In other words, although the appellant denied this distinct and separate offence, was not on trial for it and not convicted of it, the judge's view that he was in fact guilty, was treated as a significant piece of aggravation.
"The principle is clear. Even when evidence which serves to establish the defendant's guilt of an offence charged on the indictment is deployed as similar fact evidence, the sentencing decision cannot proceed on the basis that he is guilty of a distinct and separate offence of which he has not been convicted and which he denies."
Lord Judge said the circumstances of Ms Barnett's death were "horrific" and a number of aspects of the killing were "profoundly disturbing".
There was "appalling" mutilation of her body and Restivo knew "perfectly well that it would be found by the victim's children".
The court had reached the conclusion that the minimum term should be fixed at 40 years.
In the case of Roberts, Lord Judge said: "Like the Crown, which accepted that notwithstanding the seriousness of the offences, a whole-life order was inappropriate, we agree that there is force in this submission.
"It is regrettably possible to envisage, and there have been cases, where dreadful sexual assaults have been followed by murderous violence.
"The whole-life order is reserved for the most exceptional cases.
"Without suggesting that the court is prohibited from making a whole-life order unless the defendant is convicted of at least one murder, such an order will inevitably be a very rare event indeed."
Lord Judge said the court was "not to be taken as implying" that Roberts "is anything less than highly dangerous".
He added that "on the evidence before us at the moment it seems highly improbable that he will, after the expiry of 25 or 30 or more years, or indeed ever, be safe for release".
Rejecting the appeal in the case of Oakes, Lord Judge said the court agreed with the trial judge that there was "not a shred of mitigation".
It was a "premeditated double murder, with two intended victims, when there was ample opportunity after the murder of the first for this appellant to allow a moment of compassion for his child to divert him from his plan".
In the case of Stapleton, the court ruled that there was "no reason to interfere with this sentence".
Today's ruling comes a week before an appeal by Jeremy Bamber and two other murderers.
They will be seeking to overturn their whole-life tariffs at the Grand Chamber of the European Court of Human Rights.
Lord Judge said the whole-life order "is reserved for the few exceptionally serious offences in which, after reflecting on all the features of aggravation and mitigation, the judge is satisfied that the element of just punishment and retribution requires the imposition of a whole-life order".
He added: "If that conclusion is justified, the whole-life order is appropriate, but only then. It is not a mandatory or automatic or minimum sentence."