An Oxford-educated academic has been jailed for almost five years after being caught with two kilograms of cocaine at an Argentinian airport in a honeytrap sting.
Professor Paul Frampton, 68, claimed that he didn't know the drugs were in his luggage and that he was duped by gangsters posing as former Miss Bikini World Denise Milani, 32.
Professor Frampton, originally from Kidderminster, was teaching at the University of North Carolina when he struck up an internet relationship with a person he believed was Ms Milani.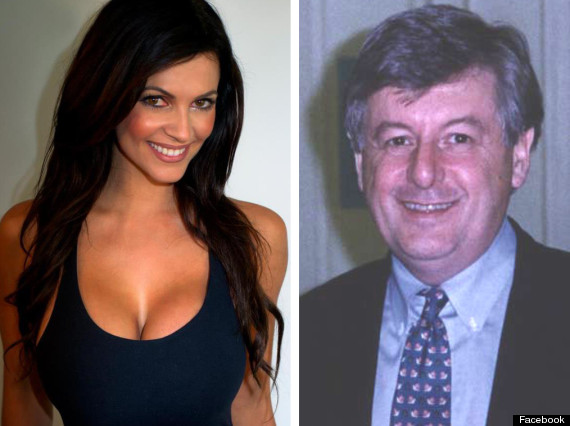 Honey trap: Professor Frampton (right) thought he was emailing Denise Milani (left)
However, the Czech model's identity was being used by gangsters to manoeuvre the academic into being a drug mule - and she had no knowledge of this.
According to the Daily Telegraph the physicist told a paper after his arrest: "Perhaps I should have realised earlier but the fraudster was very good and very intelligent. For 11 weeks I thought I was chatting with an attractive woman."
Emails were exchanged for several weeks until the pair arranged to meet for the first time in La Paz, Bolivia.
There Frampton was given a suitcase he was led to believe belonged to Ms Milani and then dispatched to Buenos Aires.
Following this leg he was ordered to fly to Brussels – where he was assured Ms Milani would be waiting for him.
But the professor, who graduated with a double first from Brasenose College, Oxford, got spooked and decided to fly back to the US via Peru.
He was arrested while attempting the journey, with the authorities at Ezeiza international airport finding the cocaine hidden in the lining of his suitcase.
Frampton claims he didn't know anything about the stash of drugs, but prosecutors reportedly read out incriminating text messages and emails to the court.
According to Argentinian newspaper Clarin, they included "I'm worried about the sniffer dogs", "I'm looking after your special little suitcase" and "In Bolivia this is worth nothing, in Europe it's worth millions".
The scientist's ex-wife, Anne-Marie Frampton, 71, described him as "a naive fool" while his defence lawyer remained convinced of his innocence after the trial.
It's thought he could serve his jail term in the notorious illa Devoto Prison in Buenos Aires, which has seen deadly riots in the past.