The deaths of five boys, who choked to death as they huddled together round a fire for warmth inside a dumpster they called home, has shocked the world's most populous nation, with commentators questioning how such poverty can persist amidst China's economic boom.
The boys, aged between nine and 13, died in a city rubbish bin after they burnt charcoal inside in an effort to keep warm.
The bodies of the five - 13-year-old Tao Zhonglin, 12-year-old Tao Zhongjing, 11-year-old Tao Zhonghong, 13-year-old Tao Chong, and nine-year-old Tao Bo - were found early in the morning on 16 November by a trash collector in Bijie, southwest China's Guizhou Province.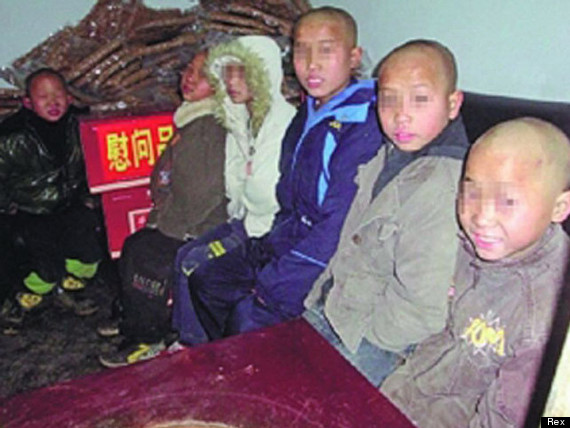 The five boys who died in the monoxide poisoning in the bin where they sheltered
According to witnesses the boys had recently built a rough shelter using foam, plastic sheeting and cement bricks nearby.
One resident said: "Quite possibly they felt too cold to stay in the shelter at night and hid in the trash bin". The night before the bodies were discovered the temperature in Bijie dropped to 6°C.
Autopsies revealed that the boys died of carbon monoxide poisoning due to burning charcoal in the sealed bin.
All the boys are believed to be related, brothers and cousins, and they took to the streets after their parents moved to other cities seeking work.
Chinese authorities have vowed to take action over official failures that meant the boys had no home and were not in education.
Xinhua reported that eight people, ranging from school principals to government officials, had been sacked or suspended by authorities in Bijie City.
Four of the boys had dropped out of school a long time ago and run away from home, family members said.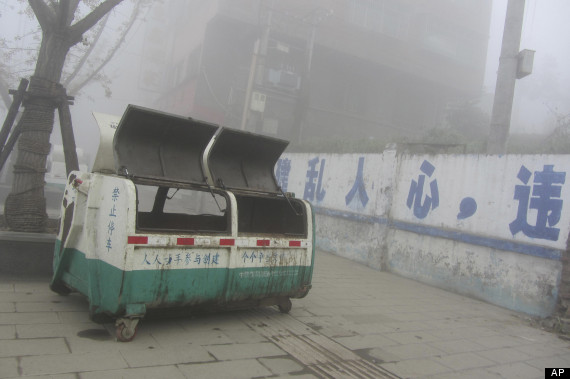 A garbage bin near a demolition site in Bijie believed to be the one inside which the five boys died
Tao Yuanwu, father of two of the boys, Tao Chong and Tao Bo, who worked away in the southern city of Shenzhen, told Xinhua that despite their teachers' attempts at persuasion, the boys had refused to attend school, saying they were getting poor grades and disliked learning.
China Daily quoted a local resident surnamed Li who said many residents living nearby knew the five children had wandered on the streets for days.
"They took a shabby shed in a construction site near the dumpster and ate some discarded vegetables in the market and played football that they had picked up," he told China Central Television on Monday.
Another father, Tao Jinyou, said of his son, Tao Zhonglin: "At first, I sent him back to school by force. But every time he would run away again, so I knew it was hopeless."
China Daily reported that he said he had been distracted by poverty and laborious farm work, so he and his wife paid little attention to their son.
The other four boys were supposed to be under the care of an aging, blind grandmother who had difficulties even caring for herself, so most of the time, the kids just survived by themselves, officials told the paper.
Zheng Yuanjie, a famous writer of Chinese fairy tales, posted on Sina Weibo, China's Twitter, that the boys' death should be remembered in China forever.
He wrote: "Though you left the world in a dumpster, you are not trash. The irresponsible adults are. A child frozen to death means a future frozen to death…please forgive us."
The boys died last week, amid the pomp and ceremony of the China leadership transition, but outrage and condemnation has been building online in China, with many Weibo users retweeted a line from a Chinese classic poem by Du Fu: "As the meat and wine in rich families rots, the poor die hungry and cold by the roadside."
Tea Leaf Nation, a China social media blog, quoted one commentator who "contrasted the death of these boys with the wealthy life led by the Party secretary from the same city, who the blogger complained has a weakness for luxurious leather belts: '[The cost of] any one of his belts could easily cover many people's foods and clothing.'"
The People's Daily newspaper carried an editorial, claiming that government officials had announced that by the end of 2012 there would be no more street children. The paper asked: "If so, why did relevant departments did not see these 'street' boys in Bijie and protect them?