Mark Clattenburg has been cleared by the Football Association of racially abusing Chelsea midfielder John Obi Mikel, who has instead been charged for using "threatening behaviour" towards the referee.
The Blues reported Clattenburg two hours after their 3-2 Premier League loss to Manchester United on 28 October, accusing him of using "inappropriate language" against the Nigerian midfielder.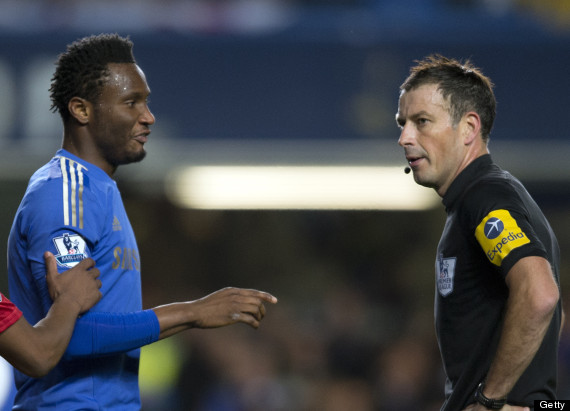 Clattenburg was accused of calling Mikel a 'monkey' after team-mate Ramires, the "one witness" who had evidence of the allegation, informed him. But the FA has cleared the 37-year-old referee of any wrongdoing, saying "there is no case for him to answer".
Mikel instead has been charged with allegedly using "threatening and/or abusive and/or insulting words and/or behaviour" towards the County Durham official after the match.
Chelsea say they have accepted the FA's decision and that Mikel will "not deny the charge" brought against him but did not apologise to Clattenburg.
Professional Game Match Officials Board chief Mike Riley has also confirmed referees will be recorded "on private basis" in order "to reduce the risk of this being repeated".
The incident leaves Chelsea's reputation in tatters with the Clattenburg affair the second second race row the club have been involved in after John Terry was found guilty by the FA of calling Anton Ferdinand a "f****** black c***" in September.
Clattenburg sent off Branislav Ivanović and Fernando Torres in Chelsea's first league defeat of the season and has also been blamed for Javier Hernández's offside winner, even though responsibility lies with the linesman. Clattenburg controversially sent Torres off
Ramires and Mikel were the two players who provided witness statements of the allegation after Ramires claimed Clattenburg had said "shut up you monkey" to Mikel. It is believed, although not confirmed in the FA's report, Clattenburg said "shut up Mikel", who was "much closer to the referee" than his midfield partner.
Brazilian Ramires still conducts interviews via an interpreter and the hastiness in which Chelsea released their accusatory statement is a further source of embarrassment.
The FA interviewed the four match officials involved, who were "adamant" no racist language had been uttered, before they requested that Chelsea provide unbroadcast video footage of the game from static cameras. It was this footage which showed "the exact point at which the comment was alleged to have been made". Despite his erroneous judgement, Ramires "acted in good faith".
Initially Clattenburg was accused of abusing two players, but Chelsea dropped their complaint he had called Juan Mata a "Spanish twa*".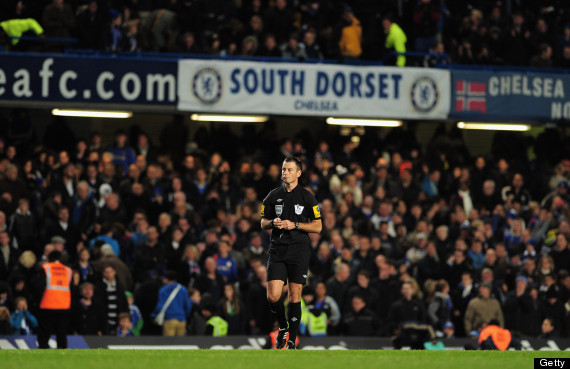 Clattenburg has not refereed since the Chelsea-United game
Since the United loss and the Clattenburg row, Chelsea have not won a league match and on Wednesday sacked manager Roberto di Matteo after they were beaten 3-0 by Juventus in the Champions League.
Clattenburg, who has not officiated since the Stamford Bridge clash, is likely to return next weekend.