Tottenham Hotspur fans have been stabbed in Rome ahead of the club's Europa League fixture with Lazio this evening.
Nine have been left wounded with two of the supporters stabbed, one of whom is believed to be critically ill. Ashley Mills and Dave Lesley have been named as suffering serious injuries while Stephen Tierney and Christopher Allen were also injured. The victims were aged between 20 and 60.
Mr Mills is said to have been stabbed and was seriously ill in the city's San Camillo Hospital. Three victims are being treated at the Holy Spirit Hospital and three others at Fatebenefratelli.
Italian newspaper La Repubblica reported scenes of "urban warfare" erupting in the early hours of this morning shortly after 1am in the Campo de Fiori with up to 100 "Ultras" confronting a band of Spurs fans.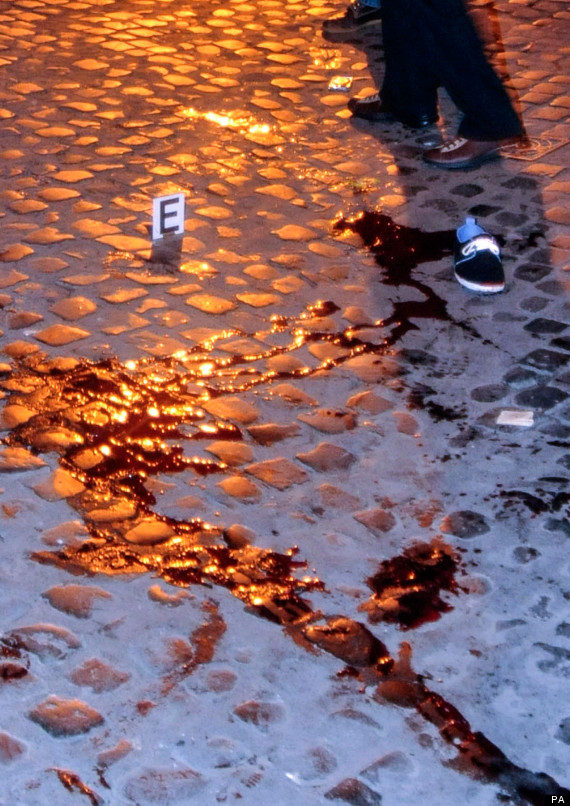 An evidence card is placed next to a pool of blood
Violence is believed to have erupted at the Drunken Ship pub where Tottenham followers were drinking when Lazio fans arrived armed with knives, baseball bats, belts and knuckle dusters.
Trails of blood could be seen outside the US-owned bar in the aftermath after Lazio fans, some wearing helmets to protect themselves from being identified, stormed the premises.
Tottenham implored supporters to avoid certain areas of the Eternal City which are renowned as hotspots for Ultras.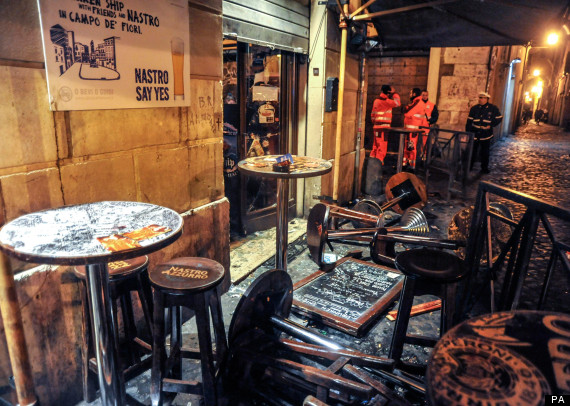 The Drunken Ship after Lazio fans' attack
"If you are making your own way to the Stadium, you should travel to the South side of the Stadium via the Ponte Duca D'Aosta," said the statement. "This is the only bridge that you should use as the home fans will use the Ponte Milvio to reach their side of the Stadium. Italian Police will monitor both bridges closely and have a high attendance in place.
"For your safety and security and to avoid any problems, we recommend that you use the shuttle buses to reach the Stadium."
English supporters have traditionally experienced trouble in Rome before with Liverpool, Middlesbrough, Manchester United and Chelsea fans victims of attacks.
A spokesman for the Foreign and Commonwealth Office confirmed they were investigating. Last week the Foreign Office announced just 27 arrests were made among the 100,000-plus army of English club football fans who travelled to 47 Champions League and Europa League matches last season.
Despite a plethora of violent outbursts against English fans in Rome, Uefa awarded the city the honour of hosting the 2009 Champions League final.
Uefa president Michel Platini told RedIssue fanzine in August 2008: "We told them [Roma] before the game against Manchester last season that if there are any stabbings like there have been before then we will take the final away from Rome. Since we said it there've been no incidents. But we're still watching."
Since that interview, several games at the stadium have been marred by multiple stabbings, including an innocent British spectator at the Rome derby in the same year.
ENGLISH FANS' TROUBLES IN ROME
1984: Liverpool fans stabbed by Roma fans in the aftermath of their European Cup final victory.
2001: In both February and December Liverpool fans stabbed in buttocks after matches against Roma.
2006: Three Middlesbrough fans stabbed.
2007: In April and December matches, several Manchester United fans are stabbed.

A United fan is left dazed after being hit by riot police

2009: Arsenal fan suffers suspected stab wound before round-of-16 tie with Roma.
2009: Manchester United fans stabbed in buttocks near ground.