A man has died after becoming trapped in his car in flood water, police said.
Emergency services received a call at about 8.50pm last night to say a car was wedged under a bridge near to a ford at Rectory Fields, in Chew Stoke, Somerset.
Fire crews and police attended the scene and a man was found in the car and pronounced dead.
An Avon and Somerset Police spokesman said they are still trying to identify the man involved and his next of kin.
"The vehicle is still stuck there at the moment, and so we are preserving the scene until the water has died down and it is safe to retrieve the car," he added.
"When daylight comes, they will look to remove it."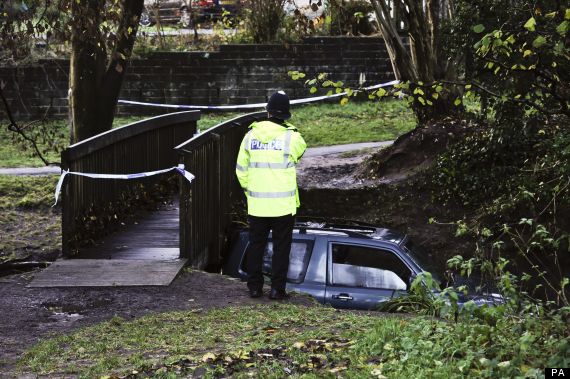 The man died after his car became wedged under a bridge
An Avon Fire and Rescue Service spokesman added: "Tragically we have had one fatality.
"We were called to reports of a car submerged in water in Pilgrims Way, in Chew Stoke, just off the main road.
"Emergency services attended and several members of the Avon Fire and Rescue swift water rescue team, who are based at Bedminster fire station, went into the water.
"They recovered a man from the vehicle, he was then left in the care of paramedics and I understand that while being taken to hospital he was declared dead en route.
"The coroner has been informed and there will be a full investigation."
The awful weather, which is expected to continue this weekend, has been worst in Wales and the South West where flooding left hundreds of drivers stranded.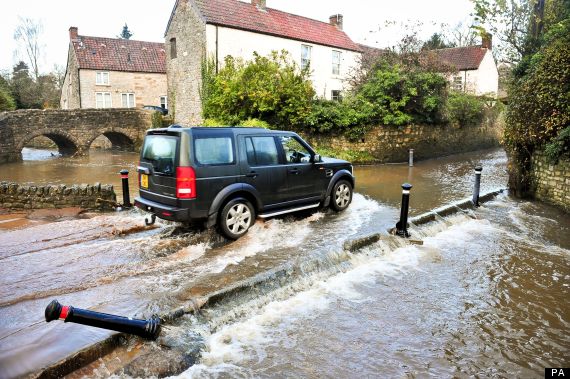 Some 45 flood warnings have been issued in the South West
And many roads were left impassable as homeowners were again forced to protect their properties as water deluged swathes of the country.
This morning the Environment Agency had issued 91 flood warnings with a total of 213 less serious flood alerts in place across England and Wales.
In the South West there were 45 flood warnings and 58 alerts.
The majority of the UK was hit by the storms as they were pushed eastwards yesterday, causing flash flooding.
While the rainfall overnight was lighter compared to earlier in the day, much of it fell on already saturated ground.
Yesterday the Met Office said some areas saw up to 60mm (5in) of rain during the day, causing further river and surface water flooding.
Last night Westonbirt had the heaviest rainfall between 6pm and midnight, reaching 22mm, while 19mm fell in Bournemouth.
The highest winds were recorded at Capel Curig in Wales reaching 86mph, but much of the UK battled with winds of 60 to 70mph during the day and throughout the night.
A spokesman for the MeteoGroup, the weather division of the Press Association, said the country would be greeted with some welcome respite today, but more storms are on their way this weekend.
He said: "There will be some respite today, a little chilly with some sunshine and short showers but nothing like yesterday.
"The rain should have cleared but might linger in the south.
"But again on Saturday it will get quite stormy overnight for all of the UK, with a particular risk of high winds in the southern half of the UK.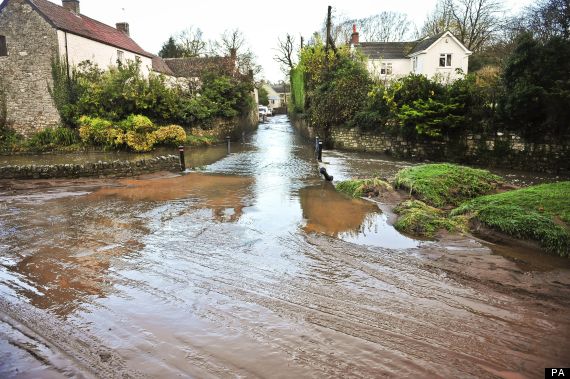 The bad weather is expected to continue over the weekend
"There will be high rainfall totals and further flooding."
He added: "All areas across the UK would have felt blustery winds and heavy rain at some point overnight but the South West and Wales had the worst of it."
Western Power yesterday said that 2,500 customers in the South West and 500 in Wales were without power because of high winds bringing down power lines, but that it was working to reconnect them as quickly as possible.
Last night north Wales became the latest area to be swamped, with the Gwynedd area worst affected.
Three children had to be rescued from Dolbadarn primary school in Llanberis by firefighters in a boat when they were prevented from leaving by high water, North Wales Fire and Rescue said.