A man who climbed a tree to save a cat had to be rescued by firefighters - after getting stuck himself.
Hapless Nathan Kent, 22, clambered into the huge pine after spotting the kitten clinging to a branch 65ft (20m) up.
The moggie, called Tom, lives at a residential home but had been missing for four days and Nathan, the maintenance man, heard his desperate meows.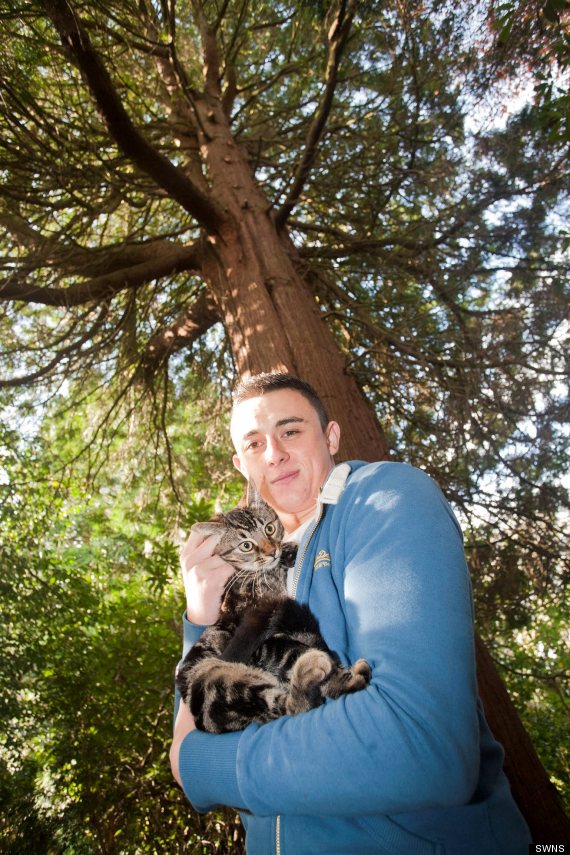 A man who climbed a tree to save a cat had to be rescued by firefighters
Nathan got a 15ft ladder and clambered into the pine but after grabbing the cat realised he was stuck himself.
He tried to get down but the cat was so scared it scratched him whenever he tried to move.
Firefighters were eventually called to rescue both man and kitten from the tree in Fowey, Cornwall.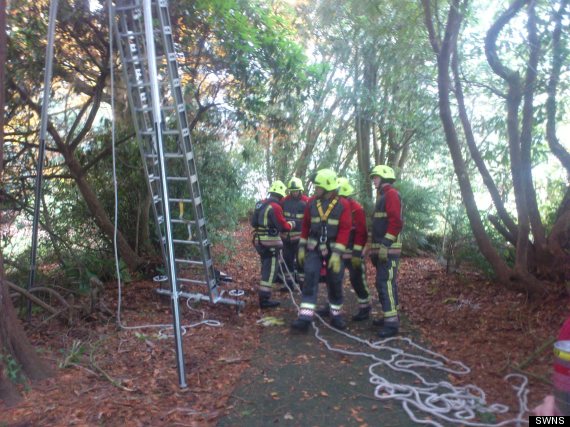 Nathan had to be rescued by firefighters
Nathan said: "I climbed and climbed, but to get down with the kitten in one arm was not safe at all.
''Tom was distressed and made it more difficult by clawing at branches and my arms as I tried to clamber down.
"The poor thing was starving and shaking. It was scared and was clawing the hell out of anything. I was covered in scratches the next day."
Firefighters from St Austell lowered Tom down by rope in a bag while Nathan was given a fire helmet and assisted down by ladder.
One firefighter, Andy Reynolds, said the crew had to first climb the tree and cut branches away so they could reach the stricken duo.
He said: "Nathan showed a great deal of courage climbing high into the tree to rescue Tom with little regard for his own safety.
''But whilst we recognise it can be very distressing to see a pet trapped or in danger we urge people not to endanger themselves attempting a rescue themselves.
''If your cat is stuck in a tree you should call the RSPCA in the first instance and never jeopardise your own safety.
"Cats will almost always find their own way down when they get hungry.''