Sir Alex Ferguson has questioned Chelsea's contrition after Mark Clattenburg was cleared of racially abusing John Obi Mikel and the bullish Manchester United manager did not waste time in launching a barb at his old adversary Rafael Benítez, who he described as "lucky" to be appointed the Blues' manager.
Chelsea last night released a statement stating they accepted the FA's conclusion Clattenburg did not "have a case to answer" after it was alleged he had called Mikel a 'monkey', however the club did not apologise to the official.
Clattenburg has not refereed since United defeated Chelsea in the 28 October fixture but is likely to return next week now the FA's investigation has been concluded.
"Everyone in the game is pleased for him now, apart from Chelsea," Ferguson said at his Friday morning press conference. "I didn't believe [the allegations] anyway."
Ferguson then could not resist airing a jibe at Benítez about the timing of his appointment at Stamford Bridge after Roberto di Matteo was sacked on Wednesday.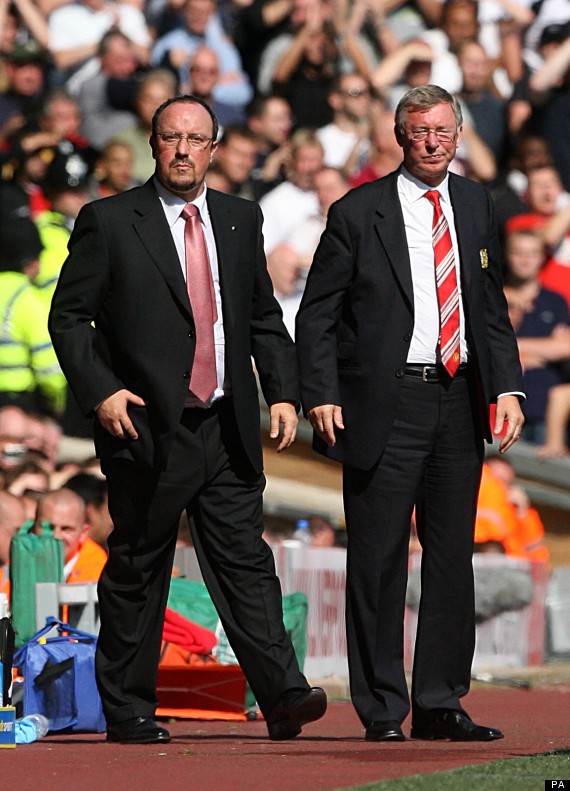 Ferguson and Benítez during Liverpool's win over United in September 2008
Chelsea next month travel to Japan for the Club World Cup, a competition Benítez won with Internazionale in December 2010 having inherited José Mourinho's treble winners in the summer.
"Rafael Benítez is very lucky because on his CV in two weeks he could have two world championships and nothing to do with the construction of the teams involved," the Scot added.
"Everyone feels for Roberto Di Matteo and quite rightly. You would have thought they would have waited two weeks to give him a chance to win a World Championship."
Ferguson and Benítez's previously warm relationship turned cold when, in January 2009, the Spaniard launched into his infamous "facts" rant in which he claimed his counterpart was "killing referees" at the height of the Respect campaign.
Liverpool, at the time top of the Premier League, then went on to take just 10 points of a possible 21 as United usurped them and went on to win their 18th league title - tying them with their rivals.
Ferguson will be at Old Trafford this afternoon for the unveiling of his statue in fron of the ground's Sir Alex Ferguson Stand. Commissioned to mark the 25th anniversary of his time as United manager, former club legends Eric Cantona, Ruud van Nistelrooy, Ole Gunnar Solskjaer, Gary Neville and others who played under the Scot will be in attendance.