The attack on Tottenham Hotspur supporters in Rome on Wednesday night is believed to have been motivated by anti-semitism.
Ashley Mills, 25, is recovering in hospital after he was stabbed by Italian thugs following an ambush carried out by up to 50 hooligans on him and 10 other Spurs fans.
Racist abuse was chanted at the Tottenham supporters, whose Jewish identity has been adopted as a badge of honour by the club over the last 30 years, at the Drunken Ship pub in the Eternal City's Campo de Fiori district.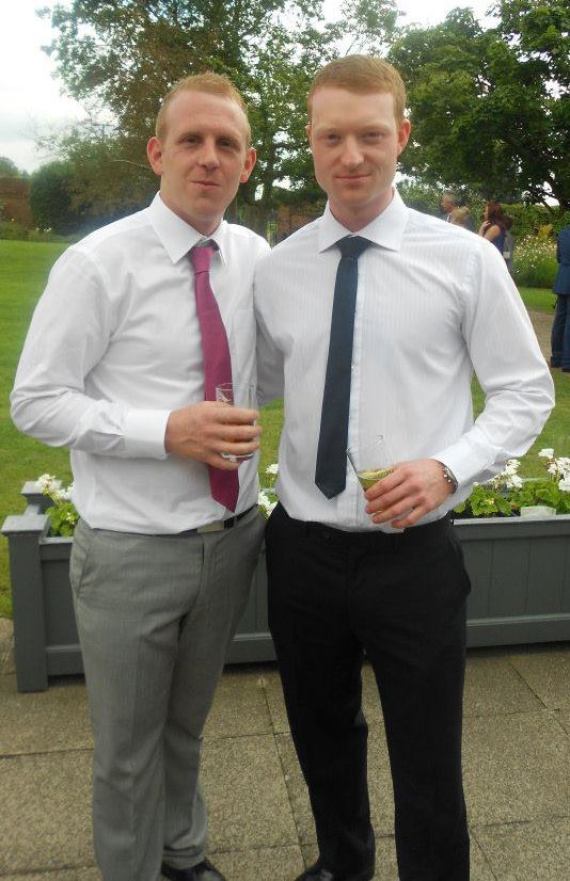 Ashley Mills (right) is recovering from his wounds
UEFA, which represents Europe's national football associations, is also expected to decide if Lazio should answer for its alleged anti-semitism singing at last night's Europa League tie.
Lazio fans chanted "Juden Tottenham" - the German word for Jew - and also unfurled a "Free Palestine" banner".
The match was played under a cloud as Mr Mills, from Hutton, Essex, was treated in San Camillo Hospital for stab wounds to his head and leg and with other injured fans treated at medical centres across the Eternal City.
The chanting came from the Curva Nord, where the Lazio Ultras sit. Ultras - who are not exclusive to Lazio - are notorious hooligan fans.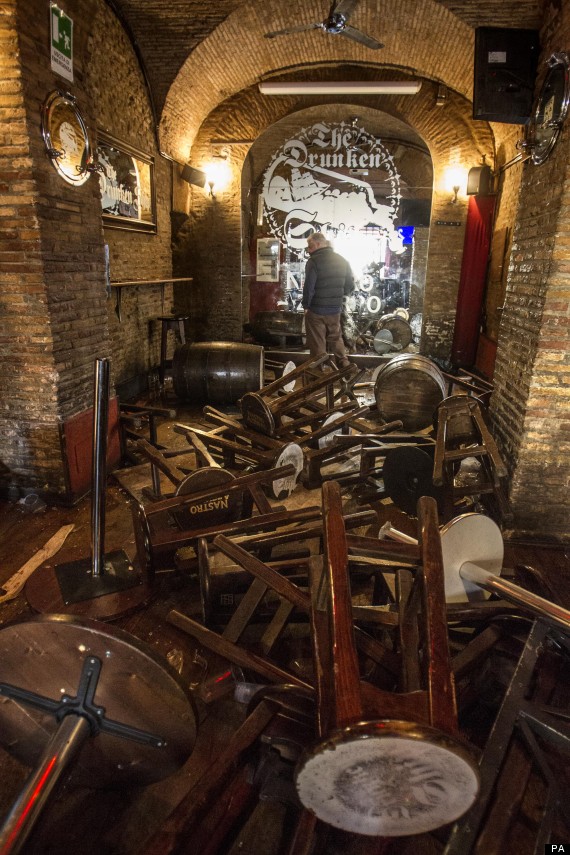 The wreckage at the Drunken Ship
Lazio denied its fans were involved in the attack.
Before the game, club president Claudio Lotito said: "Lazio fans had nothing to do with what happened in Campo de Fiori."
"When it emerges who was really responsible, some people will be surprised.
"It is all too easy to speak about aggression from people whose faces are covered and say that they are Lazio fans."
The bloodshed only ended when teams of Carabinieri arrived, where arrests were made.
Italian teams have a well documented problem with football hooliganism, with victims often stabbed in the buttocks.
Experts say the attack is chosen because it is humiliating but usually not life-threatening, and because it also has links to medieval duelling when slashing an opponent's buttocks was considered the most skilful move.
Football theorists believe Italy's fascist Ultras have wanted to identify themselves with the "English disease" of hooliganism in the 1980s.