A former popemobile could ride out its retirement as a party venue for hen nights, stag dos and corporate meetings in a new business idea.
The historic vehicle used by Pope John Paul II to weave past crowds devout followers during his 1979 visit will now be used by rather less dignified passengers.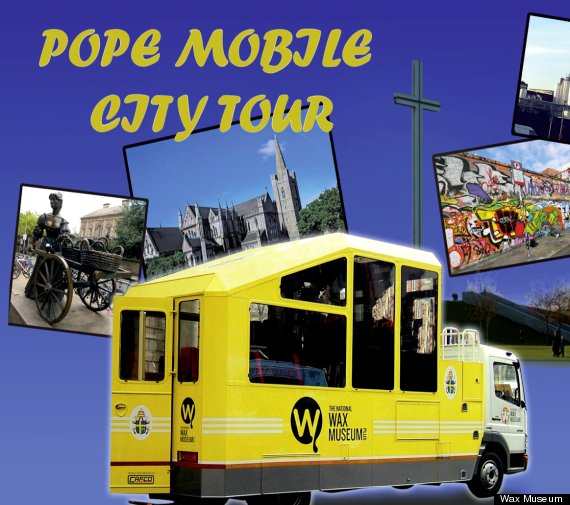 The popemobile can be hired out for stag parties or prom nights, called 'debs' in Ireland
The converted Ford Transit (complete with Papal throne and 14 passenger seats) has been given a revamp by the owner of Dublin's Wax Museum, which inherited the vehicle from former politician Donie Cassidy who used to own the site.
Although a spokesperson for the museum told the Huffington Post UK they would be "respectful to what it was", she added that they were open to hiring the vehicle for whoever wants it, including prom nights and family days out. Pope John Paul II during his 1979 visit to Ireland
The holy vehicle has been given a €60,000 make over, but kept its papal yellow and white exterior and can now be rented out for €300 an hour, about the same hourly rate as a stretch limo.
The popemobile is also advertised as offering city tours "complete with rooftop viewing balcony."
Paddy Dunning, the current owner of the Wax Museum told the Irish Times it would be great to transform the pope mobile into the 'hope mobile' showcasing the inspirational stories of community leaders.
However ideas suggested by promotional package include parties and prom nights.
The yellow converted truck was made for the first time a reigning Pope had ever visited Ireland, and after the vehicle navigated through the crowds, the leader of the Catholic church used his address to call for an end to the violence.
The current popemobile or 'papamobile' in Italian, is armour plated after the 1981 assassination attempt on John Paul II. The current popemobile with bullet-proof glass
The elevated chair, behind bullet-proof glass, allows the Pope to be seen by crowds. He is accompanied inside the car by two security guards at all times.