Michelle Heaton has spoken for the first time since having both of her breasts removed in a double mastectomy, saying it has left her 'relieved but 'shaky and emotional'.
Writing in her column for Closer magazine, the former Liberty X star - who also underwent breast reconstruction during the operation last week - revealed she hasn't felt able to look at her new breasts in the mirror yet.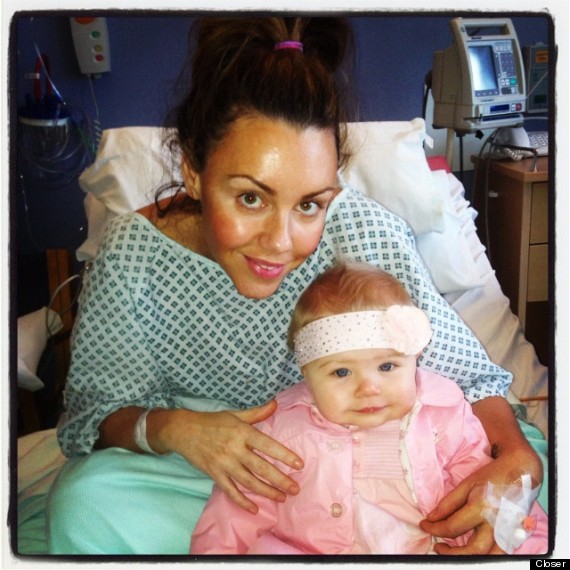 Michelle Heaton poses with her daughter, Faith, following her surgery
"I'm so relieved the op is over," she wrote. "Going into theatre was daunting, given how worried I was in the run-up to the operation, but it happened so fast, I didn't have time to think.
"I walked in, they laid me on the bed and put the needle in and started chatting to me about Liberty X! The next thing I knew, I was waking up."
Michelle, 33, opted to have the preventative surgery after learning she is up to 80 per cent more likely to develop breast cancer because she has the BRCA2 gene. After the op the singer admitted she struggled to cope with not being able to hold her daughter, Faith.
"Hugh brought Faith in to see me the morning after the op, but only for 20 minutes as she's so active and I couldn't do anything, not even hug her," she said.
"It's the hardest thing in the world not being able to hold your child and it was awful because she could obviously sense something was wrong. She waves now and to see her waving as she left was heartbreaking."
HUFFPOST UK CELEB ON FACEBOOK | FOLLOW US ON TWITTER
"I underestimated the recovery and we'll need more help than I first thought – I assumed I'd be able to hold Faith and be up and about by week two, but that's unlikely. We're going to call our friends and rally the troops!"
"It feels like a weight has been lifted. I'm still shaky and emotional and I keep crying all the time. It's the feeling of the unknown – while I'm so relieved the operation is over, I have to take each day as it comes as there are still so many side effects."
"It's going to be a long, painful and emotional road ahead, but I know my little girl will get me through this and at least this part is over."
Michelle's column appears in Closer magazine every week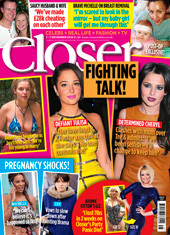 href="http://www.huffingtonpost.co.uk/2012/11/06/huffpost-celeb-awards-201_n_2082275.html" target="_hplink">VOTE IN THE 2012 HUFFPOST CELEB AWARDS