Mark Clattenburg's return to Premier League refereeing was not exactly smooth, but exactly how bad it was depends on what you read.
Clattenburg oversaw a 1-1 draw between Southampton and Norwich, his first match since being cleared of racially abusing Chelsea's John Obi Mikel on 28 October.
The BBC reports he was given a "warm welcome" whilst the Belfast Telegraph said "he spent most of the game with (the crowd's) jeers ringing in his ears".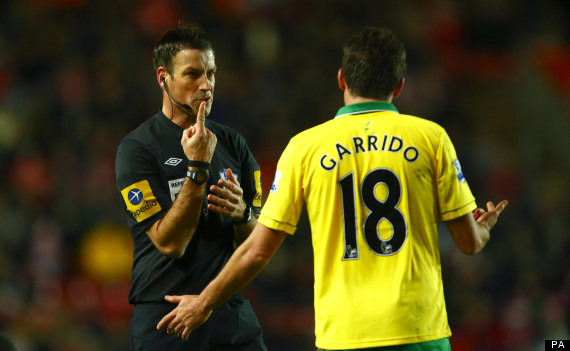 Referee Mark Clattenburg officiates at St Mary's
What everyone did agree on however, was a missed handball that allowed Southampton to take the lead in the 32nd minute.
Norwich boss Chris Hughton said: "I have seen it again and the first impression of the players there were to appeal for handball.
"Nothing has changed my mind since seeing it. I think it is a difficult one as there were a lot of bodies there but certainly it was a handball," reports the Daily Mail.
Clattenburg also awarded a controversial free kick to Norwich which led to an equaliser.
Saints manager Nigel Adkins said: "I didn't think it was a free kick at the time and I still don't after seeing it again.
"I've spoken to [Nathaniel] Clyne who says he touched the ball. We are disappointed it has been given and he made some other interesting calls during the course of the night."
But both managers were glad to see the return of Clattenburg.
Adkins said: "Of course I am pleased to see him back. It was an unfortunate situation that arose and meant he was out for a month, but he is a fine referee and has a great career in front of him."
Mark Clattenburg Returns To Action