One of the highlights of the Olympics – before any competitors had stripped down to their athletics gear – was the sight of a speedboat racing up the Thames piloted by David Beckham.
As part of the 'bloody brilliant' Olympic opening ceremony on 27 July, Beckham, accompanied by aspiring young footballer, Jade Bailey, clutching the Olympic flame, was behind the wheel of a Bladerunner BR RIB 35 speedboat.
Watched by an estimated 900 million people around the world, the two footballers took the Olympic flame on its final journey to the Olympic Park after an epic 8,000-mile tour of the UK.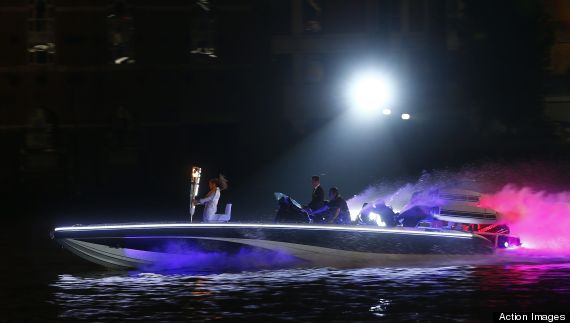 David Bechkam and Jade Bailey make their Olympic entrance
Bladerunner BR RIB 35 will be making one more journey on 3 December when it features in the Bonhams auction at Mercedes-Benz Brooklands, one of the highlights of the annual sale.
The heavily-customised boat – fitted with four dummy rockets with smoke canisters, a high-pressure waterjet bar and dozens of LED lights – played a crucial role in the spectacular opening ceremony orchestrated by Stephen Daldry, with its progress down the river synchronised to massive pyrotechnic displays including a curtain of fire descending from Tower Bridge.
Bladerunner will be sold complete with the original opening ceremony smoke emitting rockets and high-pressure waterjet bar. Tower Bridge erupts in a blaze of fireworks as the speedboat goes through
Tim Schofield, Director of Bonhams UK Motor Car department, said: "After a fantastic summer of British sporting success, Bonhams is proud to offer for sale the ultimate souvenir from the Olympic opening ceremony – what has been dubbed 'the greatest show on earth'.
See more of Bladerunner at the Olympic Opening Ceremony in the gallery below