A light dusting of snow is expected to fall across parts of the country on Friday night with up to 4cm forecast in some areas as temperatures dip to -5C.
In stark contrast to the wet and windy weather which played havoc at the start of the week, Britain can now expect a wintry spell with some crisp and dry conditions.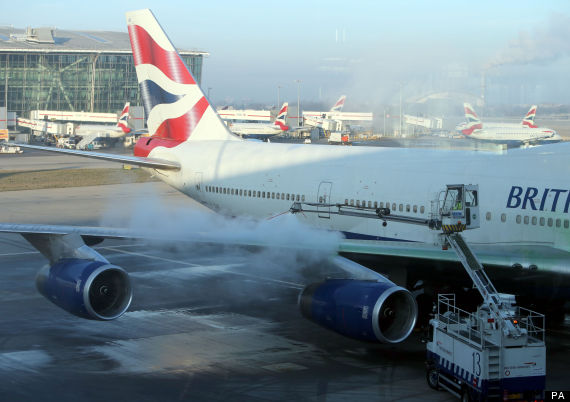 A BA plane is de-iced at Heathrow after temperatures drop
Higher areas - including the Pennines, the North York Moors and north east Scotland - are likely to be blanketed in white come tomorrow morning with between 2cm and 3cm of snow.
Meanwhile, temperatures are predicted to drop well below freezing overnight - falling as low as -5C across the country - and are likely to bring widespread frosts and an increased risk of ice.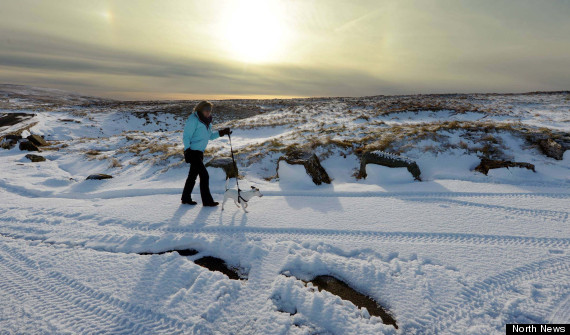 Snow hits the north Pennines in County Durham
The Met Office has warned of a "90% probability" of a severe cold snap and icy conditions lasting until midday on Sunday.
"This weather could increase the health risks to vulnerable patients and disrupt the delivery of services," it said.
Forecaster Stephen Davenport of MeteoGroup, the weather division of the Press Association, said a front of rain was moving south, bringing wintry conditions with it.
"There's going to be a mixture of rain, sleet, hail and snow showers," he said. Icicles hang down from the snow covered peat bogs
"In the northern parts of the country, over the hills, there will be a 2cm to 3cm covering of snow with up to 4cm in some spots.
"There may be snow showers down the eastern side of the country. The northern areas will certainly see a covering and further south you are likely to see a dusting on the verges."
But tomorrow promises to be a glorious winter's day in many areas, with a lot of the country enjoying cold, drier weather and sunshine.
Any showers tomorrow are likely to be confined to the South East but the weather is expected to turn more unsettled across the board on Sunday when rain sets in once more.
"There is a band of rain coming from the West on Sunday afternoon," Davenport added. A dog enjoys the weather in the north of England
"In the northern half of the country, that will be preceded by some snow but temperatures will lift overnight and that will turn to rain.
"On Monday morning it is likely to be wet.
"That is not going to help areas that are still seeing swollen rivers."