The Duchess of Cambridge, Kate, has spent the night in hospital with severe morning sickness as the nation celebrates the news that she is pregnant.
Months of speculation about a royal pregnancy were ended yesterday afternoon when William and Kate told the world they will be parents for the first time.
But the excitement about the eagerly-anticipated announcement was tinged with concern after it was revealed the Duchess was admitted to a private London hospital for hyperemesis gravidarum - very acute morning sickness. Prince William leaves the King Edward VII hospital where his wife Kate, the Duchess of Cambridge has been admitted with a severe form of morning sickness
William was by her side at the King Edward VII Hospital yesterday after she was taken there by car from Bucklebury in Berkshire, where her parents Michael and Carole Middleton live.
The Duke left the hospital shortly after 8.20pm, while Kate is expected to remain for a few days.
The Duchess had a number of engagements this week, including a visit to London's Docklands tomorrow for a charity fund-raising session on a brokers' trading floor, but they have all been cancelled, said St James's Palace. Kate and William are expecting their first child
It was reported that the Queen's former gynaecologist Marcus Setchell, who delivered the Countess of Wessex's two children, is treating her.
It is understood that the pregnancy has not passed the 12-week point and yesterday's announcement was prompted by the Duchess's medical condition.
For women with hyperemesis gravidarum, vomiting can be so severe that they cannot keep food or liquid down.
The condition usually continues past the first three months of pregnancy and can pass by week 21, but may also last longer. Large numbers of media are camped outside the hospital
The royal couple sparked baby rumours last week during a tour in Cambridge, after William accepted a romper suit from a well-wisher, telling her "I'll keep that."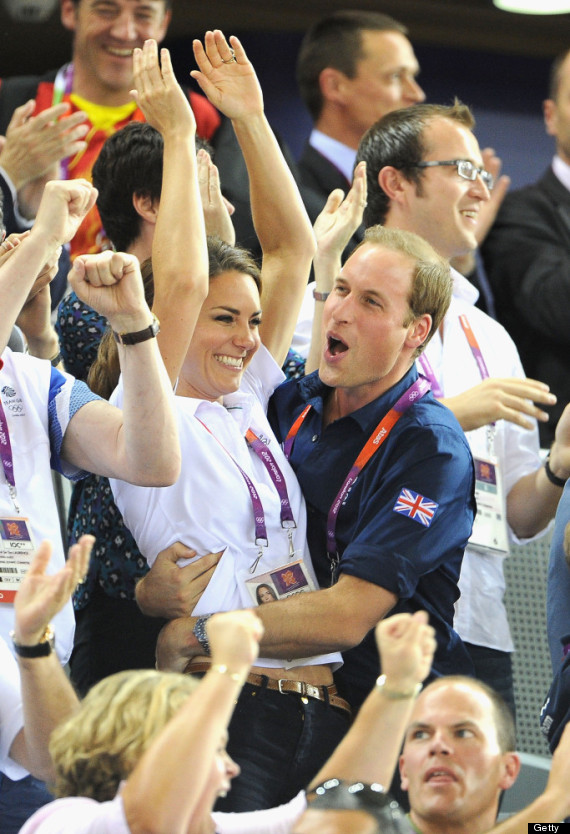 In the family way: Kate and William are to be parents in the new year
SEE ALSO: Pregnant Duchess Of Cambridge Hospitalised - What Is Hyperemesis Gravidarum?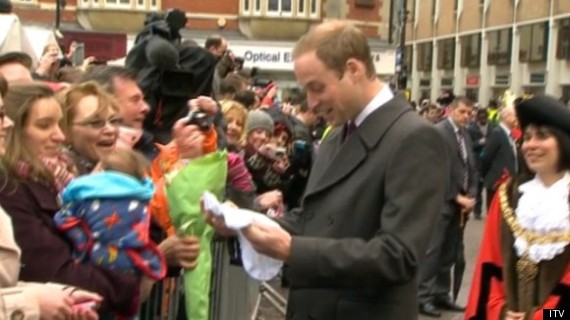 'I'll keep that': Prince William was given a baby-gro during a visit to Cambridge
The handmade baby-gro featured a helicopter and the words "Daddy's little co-pilot" - a reference to the Prince's career as a search and rescue captain.
Samantha Hill told The Mirror: "I made it for when his little one comes along, he's a helicopter pilot so his baby will think his daddy is cool.
"When I gave it to him he said 'I'll keep that' and handed it to his aide."
It seemed like the cat was well and truly out the bag when bookmaker Coral suddenly suspended betting on the royal couple having their first child next year.