Veteran BBC broadcaster Stuart Hall, 82, has been charged with three offences of indecent assault, Lancashire Police said.
The veteran broadcaster was arrested on Wednesday morning, and was questioned by detectives on Wednesday afternoon.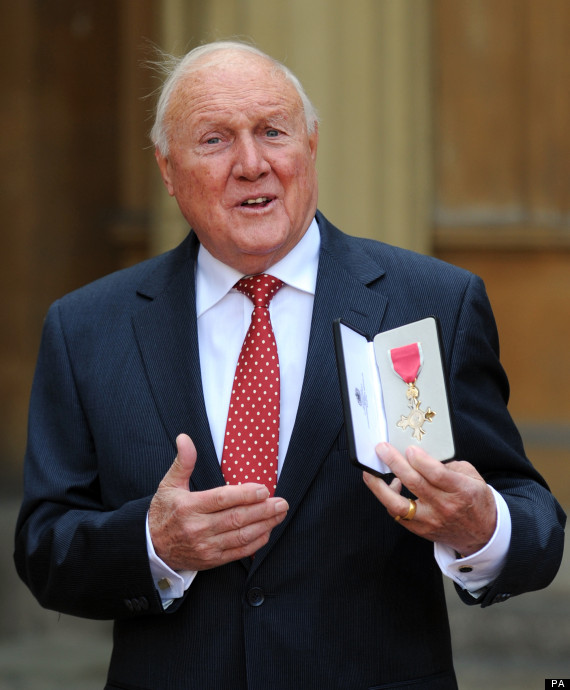 Hall was awarded an OBE earlier this year
The allegations were described by police as "historic". Hall's £1.5m home in Wilmslow, Cheshire has been searched.
According to the Daily Telegraph, a member of Hall's family, said: "It's all allegations, there's no charges, no convictions."
A police spokesman said: "An 82-year-old man from Wilmslow in Cheshire has this morning been arrested by Lancashire Police at his home address on suspicion of rape and indecent assault.
"The man will be interviewed at a police station during the course of the day. The allegations are historic. We are not prepared to discuss further. We take all allegations of sexual abuse extremely seriously.
"We would encourage people with any information about sexual abuse or who has been a victim of sexual abuse to come forward and report their concerns, confident in the knowledge it will be investigated appropriately and with sensitivity."
FOLLOW HUFF POST UK ON FACEBOOK | FOLLOW @HUFFPOSTUK ON TWITTER | FOLLOW HUFF POST UK ON GOOGLE+
Hall has been a familiar face and voice in British broadcasting for half a century and this year was awarded the OBE in the New Year Honours.
His eccentric and erudite football match summaries have made him a cult figure on BBC Radio 5 Live.
Police officers arrived at his home at about 8am this morning and stayed until about 2pm. One uniformed officer left carrying two bin bags containing items. There were two marked Cheshire police vehicles in the driveway of his home for several hours.
Comments have been closed for legal reasons.