So we know Daniel Radcliffe is the most successful child actor of his generation, and that he's already proved his horror chops in the UK's most successful-ever big screen chiller, scampering around on demand in crowd-pleasing 'The Woman in Black'.
Now he's moved to the small screen for Sky Arts' Playhouse Presents strand, in 'The Young Doctor's Notebook', a four-part drama adapted from a short story by Radcliffe's own favourite author, Mikhail Bulgakov (also the author of his favourite book The Master and Margarita).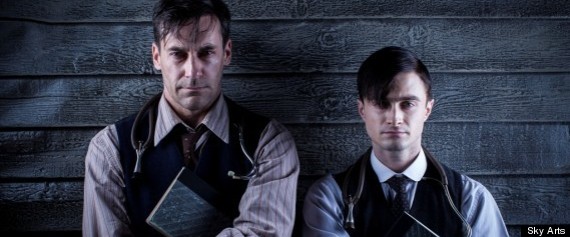 Jon Hamm and Daniel Radcliffe share a role in this comedy drama
This gave Radcliffe the chance to stretch his comedic narrative muscles, as a young surgeon forced to learn his trade in the pre-Revolution Russian wilderness, looked over beatifically by an older version of his earnest young self, a relaxed - and comically taller - Jon Hamm.
This meant sharing screen time with someone else able to demonstrate he's got more going on than one behemoth-sized blockbuster. The 'Mad Men' star was very relaxed, doing more with less, a reassuring presence as he wandered in and out.
Radcliffe showed a nice touch in comic timing, but he could learn a lot from his older screen incarnation. The tale was frantic enough, all tooth-pulling and tummy-poking, without his exaggerated posturings. Hopefully, he'll relax over the next three episodes, and bridge the distance between Hamm and ham.