Debate over whether a traditional Dutch Christmas character is a harmless festive figure or an oppressive racist incarnation has been reignited in the Netherlands as the festive season approaches.
St Nicholas Day is celebrated in the Netherlands on 6 December, not only with the arrival of Santa Claus (Sinterklaas), but with his pageboy helper 'Zwarte Piet' or Black Pete.
Together with Sinterklaas, Zwarte Piet helps deliver Christmas gifts and sweets to those children who have been "good." If you've been bad, the legend says that Black Pete will kidnap you in his sack and take you back to Spain. Zwarte Piet or 'Black Pete' as he is known, helps St Nicholas or Sinterklaas
The traditional costume for Zwarte Piet involves black make up, red lipstick, an afro wig and Tudor ruff. He also wears a ring in his ear.
With his 'blackface', Moorish costume and devious entertaining skills, he resembles all the negative representations of black people in the 20th century including minstrels and golliwogs.
Mainstream Dutch opinion does not condemn Zwarte Piet in his subservient role to white jolly St Nick, or appear to recognise how the issue might be perceived internationally, given the historical links with Dutch empire expansion and the slave trade. Children are told Zwarte Piet got his face black from delivering presents
Rebel voices in the country who label Black Pete as racist have been dismissed by the argument that Zwarte Pieten are black because they have soot on their faces from going down chimneys delivering presents, reported AP.
Others are told Zwarte Piet is a harmless children's holiday character and to connect him with minstrel or blackface traditions merely reflects on the inherent (and adult-enforced) racism of the critic, according to one Dutch blogger.
However criticism is growing toward Zwarte Pete both in the Netherlands and internationally.
Mothers have complained, pointing to the fact that their small children are bullied at school and come home crying, saying they have been called Zwarte Piet. Zwarte Piet performers often shock tourists visiting Dutch places
Last year the debate over Zwarte Piet became polarised after a protester complaining about racism was rough handled by police officers.
Performance artist Quinsy Gario wore a T-shirt saying Zwarte Piet is racist after his mother came home "trembling with rage" because she was called Zwarte Piet at work.
Three police officers pinned him to the ground after he and kneed him in the back. They also pepper-sprayed him and he spent six hours in a cell. However he was not prosecuted after the incident made headlines around the Netherlands.
Dutch politician Andrée Christine van Es, executive of the city of Amsterdam for GreenLeft, spoke out against the tradition this year, saying: "It started out without Sinterklaas and Zwarte Piet is the time to go through with it without Black Pete."
Jessica Silversmith, director of the regional Anti-Discrimination Bureau for Amsterdam told the Associated Press opposition towards the Zwarte Piet tradition is growing:
"It's not only Antilleans or Surinamers who are complaining," she said, referring to people from former Dutch colonies involved in the slave trade. "It's all kinds of Dutch people."
Commentator Greg Shapiro expressed his own fears in the Netherlands news site Dutch News that he is making his child racist after his six-year-old referred to a DHL delivery man as Zwarte Pete making him feel ashamed.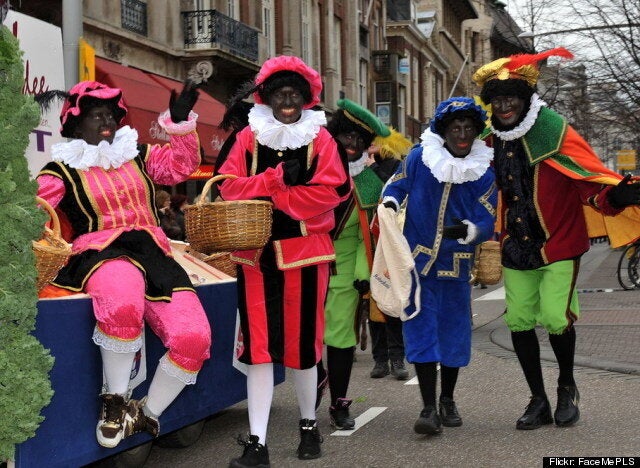 Police said 'you wouldn't want to know what gets shouted at Zwarte Piet'
Even the traditionally right wing Dutch news website GeenStijl reports that:
"Zwarte Piet is nothing more than a repulsive parody of a slave, fine-tuned to indoctrinate schoolchildren into the finer points of racism … The sooner we get rid of Zwarte Piet, the sooner we won't look like idiots to the rest of the world," according to AP.
Fresh examples of the racism generated by Zwarte Piet was seen this year after Dutch Police dressed as the character to go "undercover" during holiday parties. The police had to arrest some of the people they encountered because of the discriminatory comments.
"You would not want to know all the things which are shouted at Piets," a spokesman for Rotterdam Police force told local journalists, reported The Expatica.
Some of the clips below expose the debate surrounding Zwarte Piet (yes there's even Zwarte Piet Gangnam Style)
Related