The family of the nurse found dead after a hoax telephone call was made to the Duchess of Cambridge's hospital have spoken of their 'deep sadness' at her death.
Ambulance workers pronounced Jacintha Saldanha dead after she had been found unconscious by police on Friday morning at a London address.
In a brief statement on Friday evening, Ms Saldanha's family said: "We as a family are deeply saddened by the loss of our beloved Jacintha.
"We would ask that the media respect our privacy at this difficult time."
The King Edward VII hospital earlier announced the news of Ms Saldanha's death with "very deep sadness", adding she was "a very well respected and excellent nurse".
It has been reported that Ms Saldanha was married with two children. Ms Saldanha worked at the private hospital in central London
A St James's Palace spokesman said the Duke and Duchess of Cambridge are "deeply saddened to learn of the death of Jacintha Saldanha, adding that they had not complained to the hospital about the hoax call.
He said: "On the contrary, we offered our full and heartfelt support to the nurses involved and hospital staff at all times.
"Their Royal Highnesses were looked after so wonderfully well at all times by everybody at King Edward VII Hospital, and their thoughts and prayers are with Jacintha Saldanha's family, friends and colleagues at this very sad time." Police cars stand outside where Jacintha's body was found
Dr Peter Carter, Chief Executive & General Secretary of the RCN said: "It is deeply saddening that a simple human error due to a cruel hoax could lead to the death of a dedicated and caring member of the nursing profession."
In a statement released to the media, Lord Glenarthur, chairman of King Edward VII Hospital described Ms Saldanha death as a "tragic event."
"Jacintha was a first class nurse who cared diligently for hundreds of patients during her time with us. She will be greatly missed," he said.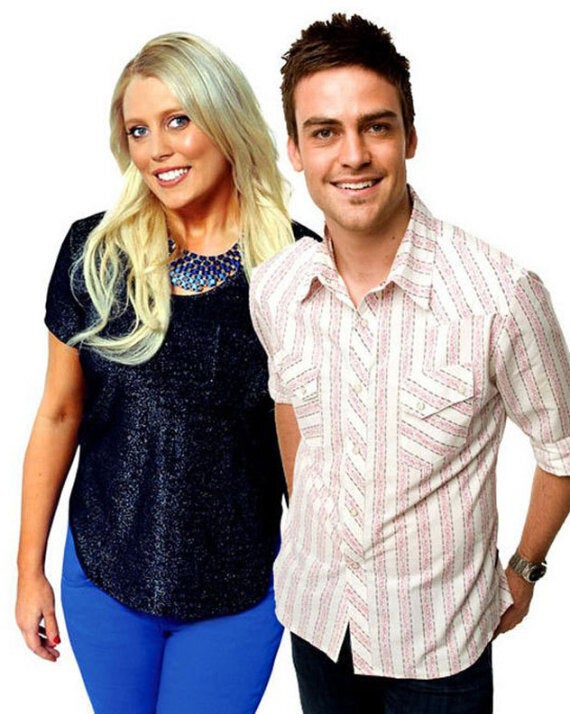 Australian DJs Mel Greig and Michael Christian from radio station 2Day FM
Ms Saldanha had worked at the King Edward VII Hospital for more than four years. She was the nurse who first answered the call from the Australian DJs playing the prank.
It said it had been supporting her "throughout this difficult time" and according to the BBC Ms Saldanha had not been suspended or disciplined by the hospital.
John Lofthouse, chief executive at King Edward VII Hospital, who previously described the prank as "deplorable" added: "Our thoughts and deepest sympathies at this time are with her family and friends. Everyone is shocked by the loss of a much loved and valued colleague." Kate and William leaving the hospital on Thursday
On Friday afternoon it appeared the two DJs who performed the prank, Michael Christian @MContheradio and Mel Greig @MelGreigHot30 deleted their Twitter accounts as thousands of people left abusive messages on social media.
Greig and Christian rang the private hospital, pretending to be the Queen and Prince Charles and asking to be put through to the Duchess who had been admitted to the hospital on Monday suffering from severe morning sickness.
In what was described in the Australian press as "the best international scoop so far" announcers Greig and Christian managed to convince the hospital staff to put them through to the Duchess' private nurse.
Despite mimicking the corgis barking and putting on unconvincing English accents, the nurse replied to their questions, saying: "She's sleeping at the moment and has had an uneventful night, she's been given some fluids, she's stable at the moment."
She added: "[Prince] Will went home at about 9 o'clock last night.
"She's quite stable. She hasn't had any retching with me and she's been sleeping on and off.''
The presenters later apologised for their actions, saying: "We were very surprised that our call was put through. We thought we'd be hung up on as soon as they heard our terrible accents.
"We're very sorry if we've caused any issues and we're glad to hear that Kate is doing well."
The owners of 2DayFM said it was "deeply saddened" by the death of Ms Saldanha.
In a statement Southern Cross Austereo said: "Southern Cross Austereo (SCA) and 2Day FM are deeply saddened by the tragic news of the death of nurse Jacintha Saldanha from King Edward VII's Hospital and we extend our deepest sympathies to her family and all that have been affected by this situation around the world.
"Chief executive officer Rhys Holleran has spoken with the presenters. They are both deeply shocked and at this time we have agreed that they will not comment about the circumstances.
"SCA and the hosts have decided that they will not return to their radio show until further notice out of respect for what can only be described as a tragedy."
Related