The media storm surrounding two Sydney radio presenters behind the hoax phone call to King Edward VII's Hospital continues to dominate Australian newspapers.
Pictures of Mel Greig and Michael Christian are featured in many of Tuesday's editions, following the 2Day FM DJs' television interviews with two current affairs programmes about the aftermath of nurse Jacintha Saldanha's death.
They are on the front page of Sydney's Daily Telegraph, which shows their tear-stained faces below the headline: "We're sorry (but please don't blame us)."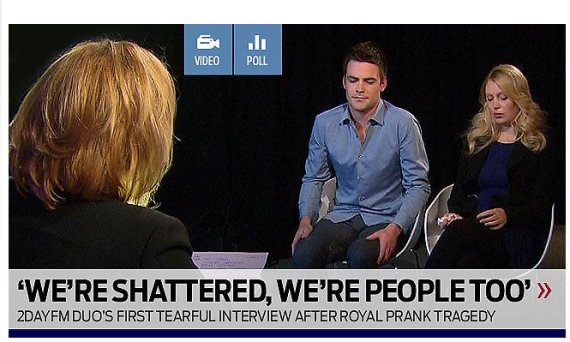 We're people too: How the Sydney Daily Telegraph covered the topic
The story covers pages two and three of the paper, which claims the radio station bosses have been dodging responsibility for their role in the prank call.
Many Sydney residents thought it was a bad decision for the DJs to take part in the televised interviews, according to the newspaper, quoting Twitter users. One Twitter user had written: "So much for not making a circus of such terrible situation. Scared of serious journos?"
The newspaper also carries an opinion piece by reporter David Penberthy titled "Lynch mobs baying for blood", saying those jumping on the bandwagon and blaming the DJs should ask themselves questions.
National newspaper The Australian also covers Greig and Christian's interviews, but turns on the British press in an editorial, which claims the "broader lesson here is about the consequences of a superficial news cycle and unthinking devotion to it".
The comment piece calls for greater perspective to be applied to news media, saying: "As if the prank wasn't foolish enough, the British press, driven by the public's insatiable appetite for royal gossip, piled on to the story.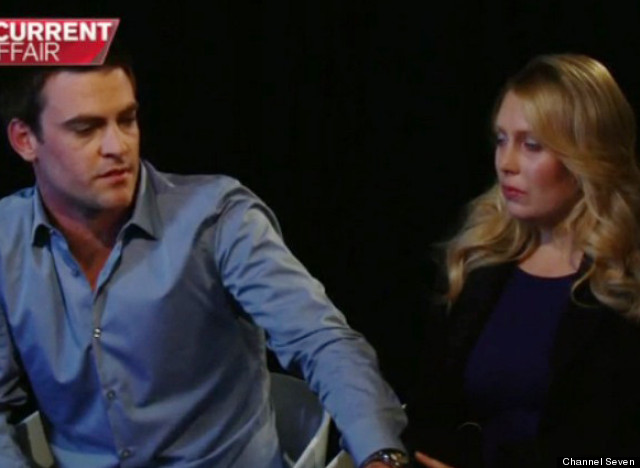 The pair are no longer on Twitter after receiving abusive messages
"Rather than dismiss it and move on, every angle was amplified and the hospital was firmly in the media's sights."
The Sydney Morning Herald carries the story in a corner of their front page, with the main story on page five reporting that the DJs told in their television interviews how they were not ultimately responsible for the stunt being broadcast.
DJ Jonathan Coleman has been interviewed by the Sydney Morning Herald on the issue of hoax calls, which have now been suspended by 2Day FM's parent company Southern Cross Austereo.
Coleman said: "I can't see where it will change, because wind-up calls are part of the history of Australian radio. The great thing about radio is it's such an instant medium. You can regulate it as much as you want, but if you regulate too much it takes the grain of humour out of it."
The issue is also being widely discussed in phone-ins on many of Sydney's commercial radio stations - although not, unsurprisingly, on 2Day FM.
SEE ALSO: