One person has died and 10 people have been injured in a nine-vehicle pile-up on the M6.
The incident happened on the southbound carriageway near junction 16 at Sandbach, Cheshire, shortly after 11.20am on Monday.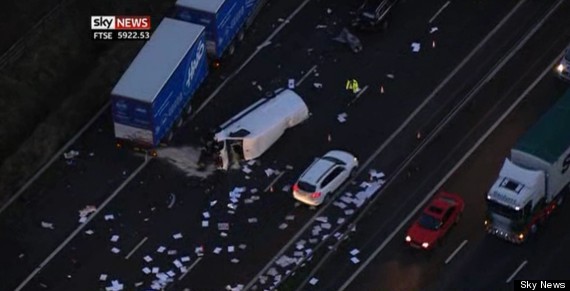 The fatal accident led to long delays on the busy M6 motorway
A spokeswoman for Cheshire Police said the collision involved two vans, two HGVs and five cars.
"Seven people received minor injuries, three received serious injuries, two of which are life threatening, and sadly one person has died," she added.
All the casualties were taken to hospital, two by air ambulance.
Police were at the scene to carry out an investigation into the circumstances.
The southbound carriageway is closed between junctions 16 and 18, Holmes Chapel, and is likely to remain closed for approximately four hours, police said.
Driver Marcus Dysch told The Huffington Post UK: "It's the worst traffic jam I've ever seen. I've moved about two miles in the past two hours.
"People have turned their engines off and are just sitting in darkness on the carriageway.
"Others have broken down and are being recovered. There's next to no information and no way out of it.
"Temperatures are dropping. If they don't get things moving soon then it'll get far worse into the night. It's quite a worrying situation."
A spokesman for Cheshire Fire and Rescue Service said: "Crews were called to the scene of a major road traffic collision on the M6 southbound between junctions 17 and 16.
"There were seven service appliances at the scene which involved numerous vehicles including two heavy goods vehicles, two cars and one van.
"The crews were engaged in extricating five casualties who were trapped.
"The officer at the scene summarised that a total of 15 persons and nine vehicles were involved in the collision.
"Five persons were released from vehicles by the Fire and Rescue Service and all casualties were transported to hospitals at Leighton, Crewe and Stoke by the ambulance service.
"Sadly, one person was confirmed dead at the scene."
The aftermath of the crash can be seen in the gallery below.