UPDATE: Ikea Monkey Owner Reveals 'Fatal Attraction' Bond & Videos Of Darwin Brushing His Teeth & Wearing Dungarees
A tiny monkey wearing a nappy and a shearling coat which caused a stir at Ikea in Toronto has been sent to an animal sanctuary.
The five-month-old monkey, now believed to be called Darwin, had unlocked its cage and opened the car door before heading into the Swedish furniture store.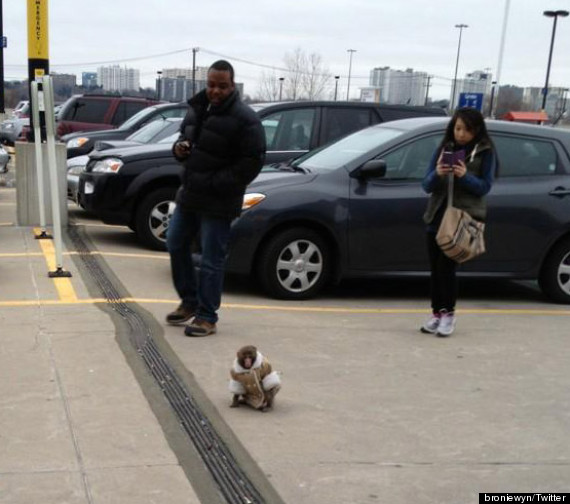 The stylish monkey takes a trip through the car park
Police managed to capture the monkey, which was a rhesus macaque. The owner was fined $240 as the breed is illegal in Canada and will not be reunited with their monkey, reported CTV Toronto.
The broadcaster reported that the baby monkey is set to be housed by the Story Book Farm Primate Sanctuary in Sunderland, Ontario, after his owners surrendered the monkey.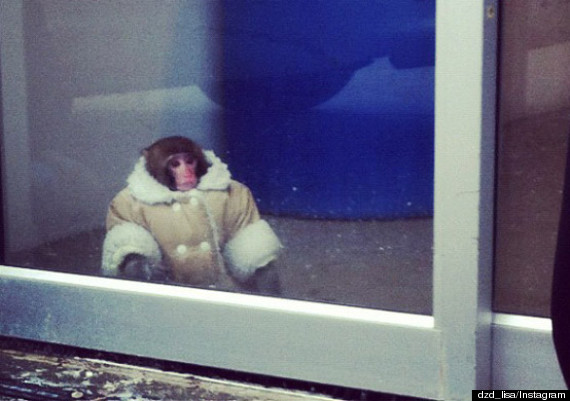 The monkey looks mournfully through the glass
Real-estate lawyer Yasmin Nakhuda has been identified as Darwin's owner, and the remorseful pet-lover told City TV: 'I know he cannot live without me. And everyone who knows Darwin can vouch for this.
"He needs his mother like a child needs his mother.
'He is more than a handful: needs to be baby bottle fed night time and needs at least three diaper changes a day.
"He has to be with me all the time which means he goes with me to the office, sleeps with me, eats with me, showers with me, goes shopping with me.'