"He's a top man. He's really genuine," 'X Factor' winner James Arthur says of his new boss Simon Cowell.
"I spoke to him for the first time this morning. He just said I was a credit to the show, he was pleased with my figures that came out today… He was just really pleased and said he was very proud of me."
Arthur's single - a cover of Shontelle's 'Impossible' - has become the fastest selling 'X Factor' single ever, with 187,000 digital copies sold by midnight on Monday, after being on sale for less than 24 hours.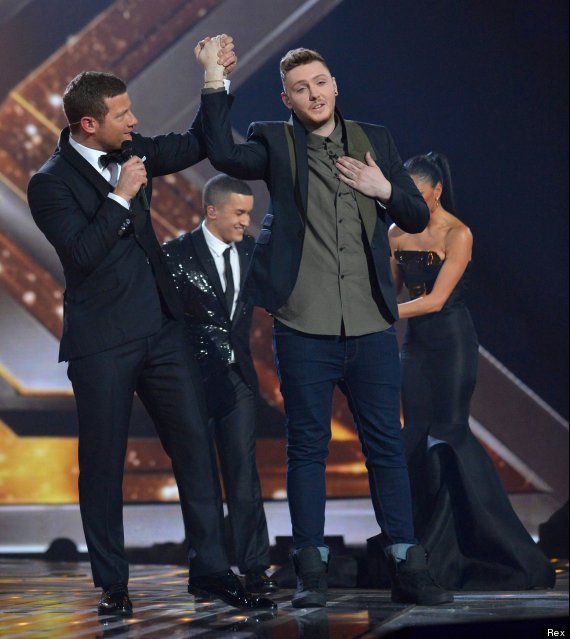 James Arthur wins The X Factor
His song, recorded for the charity Together for Short Lives, will get another boost for chart glory when the CD is released on Wednesday. No wonder Cowell is pleased.
But it's not just record sales that the music mogul will be happy about, he's also scored himself what the industry is calling a "credible" artist - Arthur can sing, write his own songs and play the guitar.
So will he break the curse of the male solo winners, who've - up until now - failed to live up to the hype after the show's publicity has subsided?
"I don't take any notice of the winner's curse thing… It's all about the music you put out and maybe the people that won in the past haven't put out the strongest album that they could have. I like to think I've got a good bit of momentum behind me and this year has been the best year possible for real artists who play their own music," Arthur says confidently.
And he adds: "I think I'll make a good album and it will do all right. I've got hundreds of songs, the hard part will be choosing which ones to go on the album. I want it out there as soon as physically possible."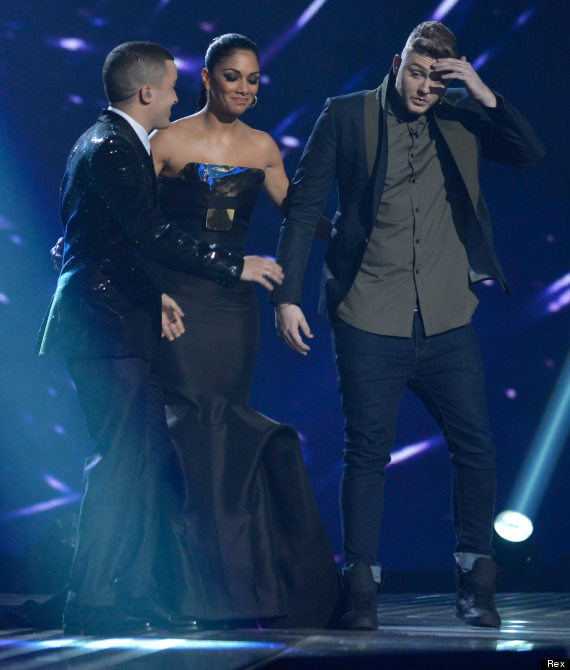 Jahmene Douglas, Nicole Scherzinger and James
I'm sitting with the 24-year-old who this time last year was living in a bedsit in the North East and is now looking for his own home in London, hoping to buy a car for Christmas and boasts a heartthrob status with thousands of female fans.
Does he think if he came from a privileged background that he'd have still won the show?
"I'd like to think that it hasn't had the majority hand in me winning. Hopefully, first and foremost, it was my music that people voted for and enjoyed my singing but maybe it helped.
"I just hope that I've related to a few people… I never imposed my story on people, they picked up on it from a long conversation when I first met the 'X Factor' team and they ran with it. I've never had any qualms about it because I've always been open it about it."
On Sunday's show, viewers saw 'X Factor' judge Tulisa tell Arthur that they were "the same person", which left many wondering what she was talking about. He explains: "I think she just meant that we come from humble beginnings and she's probably seen the depths before and she grew up in sort of a rough area and I did the same. We never had a lot of money growing up. The music that we both make, it comes from the heart and I think that's what she was getting at."
While life post-X Factor has kicked off with a great start for Arthur, the same can't be said for axed Christopher Maloney who is repeatedly receiving criticism in the press for his alleged tantrums on the show. I ask Arthur what the deal is - was Chris really that bad? And will they meet up again?
"I couldn't see us doing a collab but I think he's a decent guy. He's dealt with a lot of stuff, he's had so much stick throughout the show.
"At the final he had like 2,000 people booing him and he was in the final - it was hard for even us to stand there and watch him take. So I think you've got to give him credit for the abuse that he's taken. I can't really comment on any of the reports of what he's done because I've not been privy to it because I've been so focused on what I'm doing." Arthur has definitely already learned the skill of giving a diplomatic answer.
He seems most comfortable when talking about his music and has already got some great collaborations with current British artists lined up for his album.
"I've spoke to Emeli Sande and Ed Sheeran quite a bit and Labrinth, Tinchy Stryder and Professor Green even. I'd like to think all of these were a possibility even if not for the first album but for the future… they're the type of people I'd like to emulate in the music industry."
Will we see him and his mentor Nicole Scherzinger team up for the album? "I'd love to do a song with Nicole. I think our duet went really well, our voices blended really nicely… people forget that she's proper powerhouse, she's a really good singer."
James Arthur's first single 'Impossible' is released in shops on Wednesday.
CHRISTMAS COMPETITION: Click here for your chance to win an iPad Mini!