Cecilia Gímenez is back.
An original painting by the 80-year-old Spaniard, whose attempt to restore a 19th-century Ecce Homo prompted hilarity around the globe, is at the centre of a fierce bidding war on eBay.
It was August 2012 when the well-meaning octogenarian rolled up her sleeves, took out her easel and went to work on a dilapidated image of Christ that had been painted on the wall of her local church. The result was captured and shared around the world, quickly dubbed the 'Beast Jesus' and - cruelly, but perhaps fairly - described as 'the word restoration in history'.
But Gímenez's artistic reputation appears to be undergoing a mini revision as one of her landscapes, depicting some buildings near her native town of Borja, has popped up on eBay where nine bids were registered within four hours.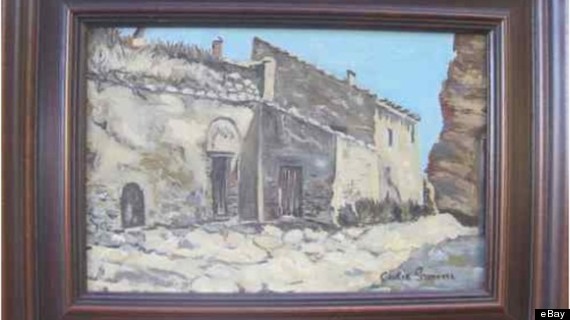 From a starting price from €300 (£242), the latest bid stands at €610,00 - more than double, with 5 days left still to go.
The money will go to the Roman Catholic charity Caritas, who put the painting up for sale after it was donated to them by Gímenez.
The 'Beast Jesus' delighted art lovers around the world and prompted several parodies, the funniest of which we've rounded up below.
Funniest Cecilia Prize Contenders