Stuffing her bra and skirt with padding, a female tennis player has been filmed prancing onto the courts, performing what some are labelling as a "racist" impersonation of Serena Williams.
Caroline Wozniacki paraded and pouted ahead of her exhibition match against Maria Sharapova in Brazil, later telling a press conference she had been poking fun at her friend and fellow player Williams.
The 22-year-old told reporters: "I really love the crowd here, they're open and they have a lot of fun." Caroline Wozniacki performs for the crowds on the courts in Brazil
Wozniacki's turn was termed "hilarious" by Yahoo Sports, which noted: "The likeness to Serena, you'll surely agree, is uncanny."
However her peformance has drawn criticism, with some branding it a "racist attack".
"Making fun of somebody's body is inappropriate, sexist, offensive and problematic. But given the history and current-day context of racialised standards of beauty, and the hypersexualisation of people of colour, when a white woman makes fun of a black women's body, especially in a way that hypersexualises her and draws on the stereotype of black women's big butts, it's racist." Serena Williams has been ranked World No 1 in singles on five occasions by the Women's Tennis Association
...this isn't "harmless fun" as one article described it. its racist. out and outright racism. mocking and making fun of the bodies of black women for a laugh? real funny, stupid white girl. real real funny.
So a white woman can do something like this, but Serena Williams can't crip walk to celebrate a victory? Wozniacki stuffed her bra and underwear so that she could appear like Serena. It may have been done in "jest," but I love how people can can turn a black woman's body and sexuality into a caricature. However, we should not have the autonomy to celebrate any successes of our own.
It's not the first time Wozniacki has pranced on court in this fashion. Last year she pulled the same stunt while dancing into the arena to a Rihanna song.
For Williams's part, she's known for her eye-catching outfits both on and off the courts and makes frequent references to her curvy physique on her Twitter feed.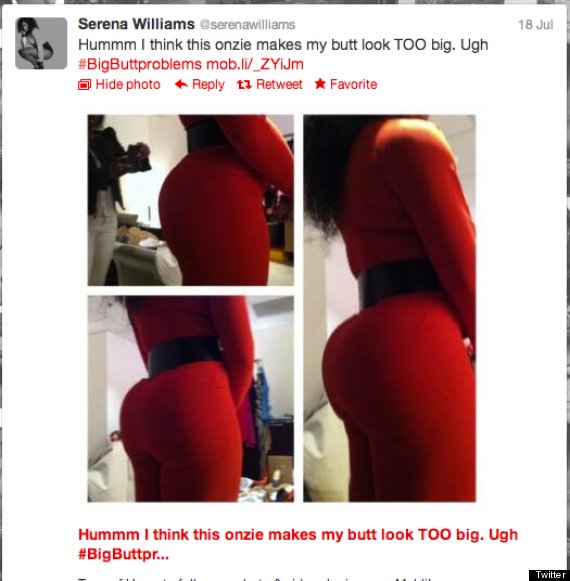 Williams was in Brazil at the same time as Wozniacki and made reference to her apparent difficulty in finding a Brazilian bikini.