EasyJet's cabin crew are getting in a festive mood by donning Santa Claus outfits to launch a new charity donation drive for Unicef.
From Friday 14 December, passengers will be encouraged to donate their spare change by cabin crew dressed in Santa hats.
To launch the initiative, more than two hundred Santa Clauses unveiled a newly branded 'Change for Good' plane.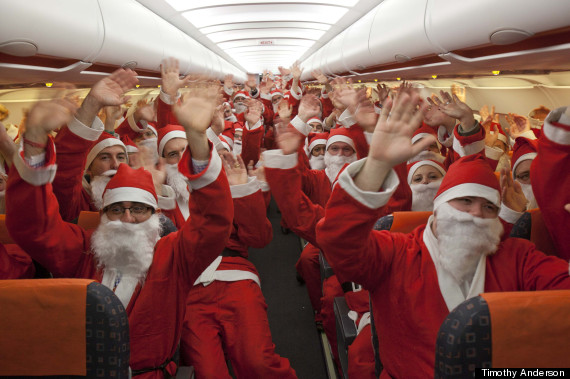 Now, where are they going to put all the reindeer?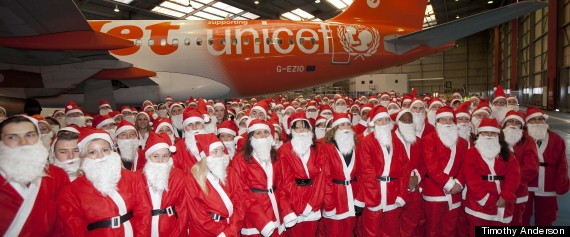 The newly branded plane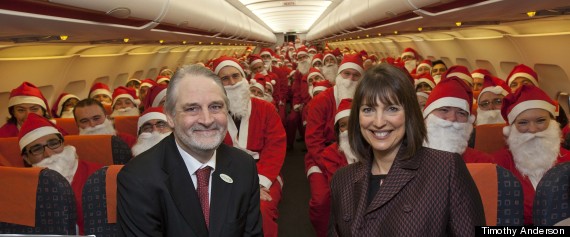 EasyJet's Carolyn McCall with Unicef's David Bull
The £1m donated through spare change and unused foreign currency enabled Unicef to protect nearly 2.5 million children and mums against deadly diseases, including maternal and newborn tetanus.
And just a small amount of change can make a huge difference:
Everyday, 4,000 children die from deadly, but easily preventable disease, such as measles or polio
But just 40p could cover the full cost of vaccinating a child against one of these life threatening diseases
The partnership with EasyJet has already raised more than £1 million through passenger donations since it began in July.
Carolyn McCall, EasyJet's chief executive said in a statement: "We are absolutely thrilled to have raised £1m, it will help save the lives of so many children. I'd like to thank our passengers who have so generously donated to this worthy cause and everyone at EasyJet who has supported the fundraising effort."
Unicef UK's executive director David Bull added: "As the cold winter months set in, the generosity and support shown by EasyJet passengers has been truly heart-warming. There is no doubt they are the real Santa Clauses this Christmas. The spare change they donate every time they fly - however big or small - will help Unicef give children a truly life-saving gift this Christmas; vaccines to protect them from diseases which could otherwise take their life."