Britain's gold-plated triple AAA status came under pressure on Thursday after an influential credit ratings agency put it on negative watch.
Standard & Poor's (S&P) said there was a one in three chance it could lower Britain's rating within the next two years, if economic conditions weaken in the UK.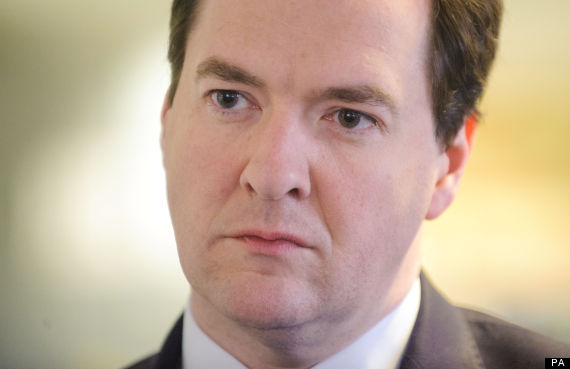 A downgrade would leave chancellor George Osborne struggling to explain his adherence to austerity measures
It said it expected government debt as a percentage of gross domestic product (GDP) to continue to rise in 2015, before declining again, with future employment or growth shocks putting further pressure on Government finances.
The agency said: "In our opinion, many of the factors that have restrained growth in recent years will likely continue to do so in the near term."
A Tresury spokesman said the move brought S&P in line with rival agencies Fitch and Moody's, which both revised the UK to a negative outlook earlier this year.
A downgrade by one of the big three credit ratings agencies would drive up the UK's borrowing costs, potentially jeopardising the Government's deficit reduction plans.
The S&P report comes after Chancellor George Osborne said he will not be able to start bringing down national debt as a percentage of gross domestic product (GDP) in 2015/16, in his Autumn Statement.
He said he must extend his fiscal consolidation period by a year to 2017/18 after the independent tax and spending watchdog, the Office for Budget Responsibility (OBR), said it expected GDP to fall this year by 0.1%, compared to previous estimates of 0.8% growth.
Alan Clarke, director at Scotiabank, said: "The UK needs to stop disappointing on growth and the public finances to prevent a downgrade. If things go as the OBR projected or even ever so slightly worse, then S&P won't downgrade.
However, the UK has suffered persistent slippage since mid-2010 so the odds are skewed towards a downgrade."
Shadow chancellor Ed Balls said: "George Osborne is now failing on all the tests he set for his economic policies. A week after having to admit he won't balance the books or get the debt down by 2015, we have the unprecedented situation of all three main credit rating agencies putting Britain on negative outlook.
"Standard and Poor's is clear that it is weak economic growth which has led to their estimates for the deficit and debt being revised up. In fact the Chancellor is now set to borrow £212 billion more than he planned two years ago because of his failure on jobs and growth.
"We have always warned the Government not to set their economic policies by what the credit rating agencies say, but George Osborne has repeatedly set their views as the key benchmark of success or failure. And he is now failing on the tests he set himself.
"At the start of this year, S&P warned that austerity alone risks becoming self-defeating. But even as that warning is coming true, George Osborne is refusing to listen and recklessly ploughing on with the same failing policies."
Labour sources noted that when S&P put the UK on negative outlook under Gordon Brown's administration in 2009, Mr Osborne - then shadow chancellor - said the country's "economic reputation is on the line" and called for an early general election.